Valentine's Play Dough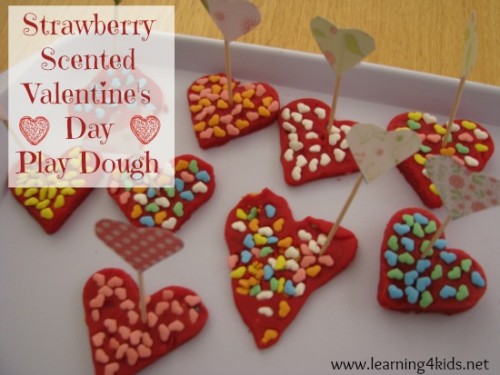 With Valentine's Day only a few weeks away, we have been playing and creating with this theme in mind. We made some homemade, bright red play dough with sugar heart sprinkles for some fun, hands-on sensory play dough play.
We kept it very simple by introducing a few pieces of equipment to encourage and stimulate the imagination to create freely.
What you will need?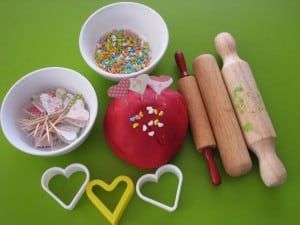 You will need Valentine's Day Play Dough, sugar hearts sprinkles, heart shape cookie cutters, rolling pins; tooth picks and cut out paper hearts.  We have used left over hearts from the Heart Flowers craft activity.
I placed all the materials onto our activity table as displayed in the photo and let my kids explore and create with no influence or instruction.  I love to see what they come up with all on their own, that is what learning is all about!!
Let's Play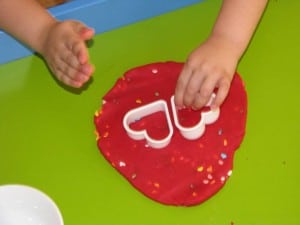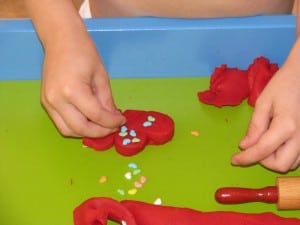 Straight for the cookie cutters: Miss Four kneaded some of the heart sprinkles into her play dough then used the cookie cutters and Miss Five decorated her play dough heart cookies with patterns using the heart sprinkles.
Let's Learn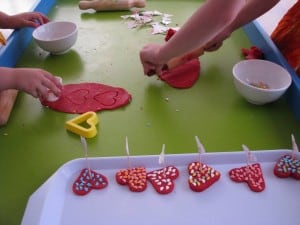 Making heart cookies with sprinkles for their pretend café: kneading, rolling and cutting with the cookie cutter and then decorating them with the heart sprinkles.  The girls made numerous patterns with the different coloured sugar hearts, picking out and sorting the different colours.  They created heart cookies with blue and green sprinkles or just one colour and displayed them on a tray.
Play Dough Play is so important for kids because it:
Strengthens little muscles (fine motor) ready for holding a pencil and writing.
Encourages and promotes creativity.
Acts as a prop to promote imaginative play and role play.
Develops eye and hand coordination
Exercises memory and concentration
Develops an understanding of spatial awareness – size, shape and space through creating and moulding shapes and forms.
Click here for more great Valentine's Day Activities and Ideas
LIKE THIS POST
Come join the many playtimes here on Learning4kids, please enter your email address in the subscription box to receive updates right to your inbox!