This is a sponsored post.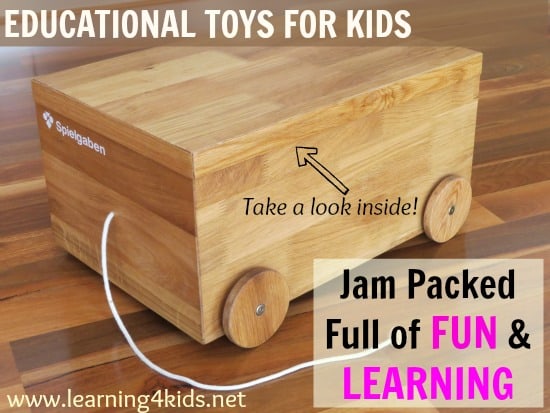 SPIELGABEN EDUCATIONAL TOY KITS
This FABULOUS new toy I have had the pleasure in trying out is just that-
an AMAZING box jam packed full of fun and learning. 
I cannot even begin to tell you how incredible the SPIELGABEN TOY-BASED EDUCATIONAL SETS are.  There is so much to be explored and discovered with this beautifully wooden crafted educational toy.  This post barely touches the surface of the potential these 13 box sets bring!   I love the way that the Spielgaben Educational Toy Sets promote learning through play and encourages open-ended and creative learning opportunities.  The items included in the sets are intriguing and unique and will ignite the natural curiosity to learn within kids as it did with my kids.  Miss 7, Miss 5 and Miss 2 (nearly 3)'s eyes lit up when they first saw the Spielgaben Toy Sets and could not wait to have a play.   
WHAT IS A SPIELGABEN EDUCATIONAL KIT?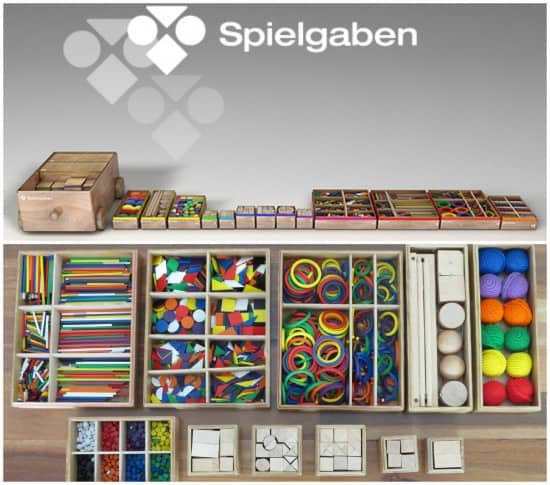 The Spielgaben Educational Toy Kit consists of 13 beautiful high quality wooden play sets which are stored in one large wooden trolley box with wheels.  The above photo shows 11 of the 13 wooden sets more closely.   It is specially designed for children between 3 and 12 years old and is the perfect toy that will grow with your child's development and learning needs.  Each 13 boxes can be played with individually or combined with another, you will find colourful cotton balls, construction blocks which have been designed in a range of shapes and sizes for specific purposes.  Other sets include three-dimensional solid shapes which can also be used for threading, there are concentric rings, 7 colourful different geometric shaped tablets and different length coloured sticks.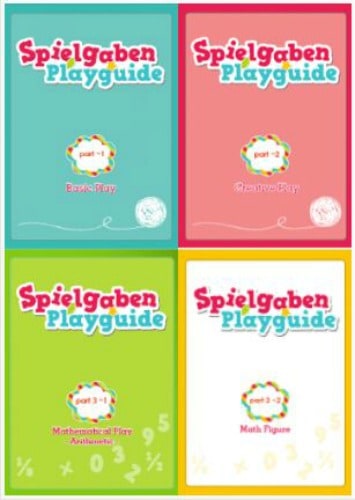 The Spielgaben Kits come with 4 User Guides to help you get the most from the Spielgaben sets.  These user guides are AMAZING, the information provided and activity ideas are so easy to follow and the best part is that there are photos and explanatory notes too.                                       
A BRIEF BACKGROUND ABOUT SPEILGABEN: What makes it so special?
The original inventor of this toy is a German educator Friedrich Froebel (1782 – 1852) who believed that all children were creative and that they could learn art, design structure, and Math by discovering these elements in nature. This method of learning became the basis of Kindergarten and the Montessori style of holistic learning and is utilised around the world.  
WE HAVE HAD A PLAY WITH THE SPIELGABEN EDUCATIONAL TOY SET!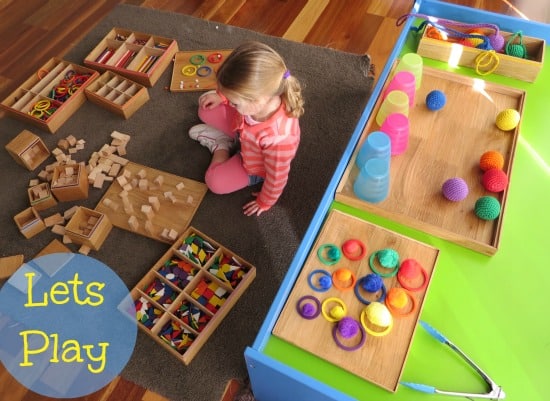 All these Spielgaben activity box sets are presented with limitless opportunities for hands-on and open-ended play and learning within the areas of science, mathematics, literacy and creative play.   There are ENDLESS learning opportunities to be explored and discovered with the Spielgaben Educational Toy Set.  I can only brush the surface of the possibilities and the potential these products bring and therefore have chosen to share how we played with 2 of the 13 toy kits.  Here is just a sample of what we did….  
COTTON BALLS SET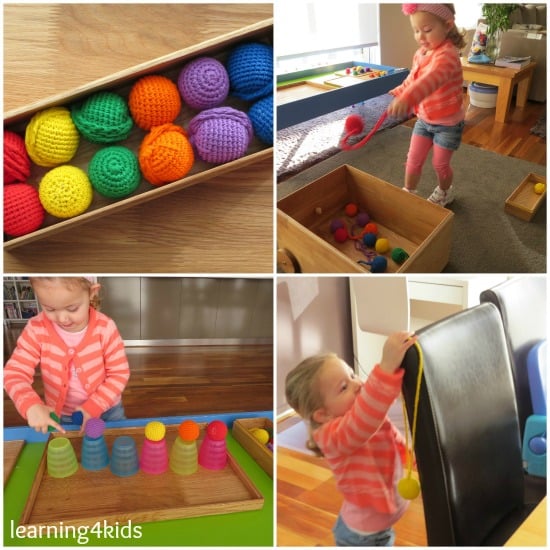 One of the first items Miss 2 and I were instantly attracted to was the 12 Cotton Balls Set.  They are bright, beautifully textured and make a wonderful sensory toy.  They are the kind of toy that you just can't help but to give them a little squish.  There are endless learning opportunities to be explored and discovered with the 12 Coloured Cotton Balls such as active play with throwing, rolling and catching and mathematics with counting,  creating patterns, matching and sorting colours.  Miss 2 has been learning about colours and I thought that the cotton balls would be a great tool for continuing this learning.  We played a few games such as Hide and Seek, Hidden Ball under a Cup and Throwing Balls into a Box.   
Hide and Seek
:  Miss 2 absolutely loves to play the game Hide and Seek and it is great for reinforcing skills such as following directions, recall of naming colours I placed the balls that were on a string in easy to find places so that they would be instantly seen when she walked into the room.  When Miss 2 found a ball, she would call out the colour and then place it around her neck like a necklace and then went onto find another.   
Hidden Balls under a Cup
:  This game can be played in a number of ways and is great for building concentration, recall and memory.  I placed all of the balls underneath the cups and Miss 2 lifted the cups, said the name of the colour and then balanced the ball on top of the cup.  It can also be played by covering only 1 of the 6 coloured balls and the child needs to guess which colour is missing and has been covered.  
Throwing Balls:
 We used the Coloured Cotton Balls for a throwing game.  It is a great way to exercise and develop gross motor skills and hand-eye coordination.  We used the wooden storage trolley as the catchment box; it is the perfect size, nice and big for not so accurate throwing abilities.  Miss 2 had so much fun throwing them in and missing the box but it was also great for her to learn her colours as she called them out each time she threw them.    There are lots of great ideas in the guides that I have never even thought of before such as a Fishing game which involves placing a paper clip through a hoop on the cotton balls and catching them with a magnet placed on the end of a rope (fishing rod).  
COLOURED RINGS SET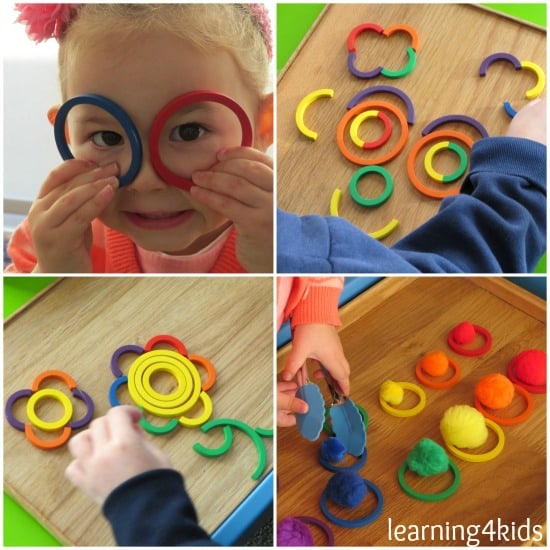 We had so much fun playing with the Coloured Rings Set which comes with a range of shapes and sizes of rings and half rings.  They are brightly coloured and my girls were instantly drawn to them. The Spielgaben Toy Sets are so diverse and encourage open-ended activities and creative play that other items found around the home can also be added, enriching the learning experience.  We included pompoms into one of our activities as it was a great match for the colours and shapes of the Coloured Rings Set.  
Coloured Pompom Sort
:  We used the larger and smaller coloured rings in this set to form the coloured sorting barriers for placing matching coloured pompoms into.  The aim of the activity was to match the larger coloured pompoms to the larger circles and the smaller pompoms to match the smaller circles. The pompoms also needed to match the same colour of the circles.  I also introduced a set of mini tongs to encourage fine motor strengthening and coordination.  It is a great way to reinforce the learning of colours, and spatial awareness of larger and smaller.  The Geometry Dots Set can also be used for this sorting colours activity as the colours all match in the full sets.  
Creating Pictures and Faces
:  Experimenting with spatial awareness and shape to create pictures and faces.  The activity involves the process of trial and error, experimenting with what works and what doesn't and finding another way to create the desired result.  The Coloured Rings Set along with a combination of the other sets in the kit can also be used to create names and words.  
A bit of fun with pretend play
: The Spielgaben Educational Toy Sets encourage creative play.  Miss 2 could not help but use two rings to form a pair of glasses.  She put on a silly voice and pretended to be another character.  Pretend play is great for language development, creativity and the imagination.   There are lots of great play ideas to be found in the user guide for the Coloured Ring Set.  They are great for encouraging learning about fractions, spatial awareness, shape, creativity, the imagination and pretend play.  
EDUCATIONAL BENEFITS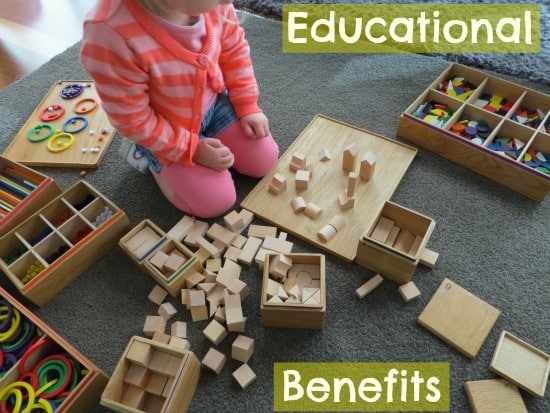 As a Primary School Teacher I value toys that are educational and offer a large range of hands-on learning opportunities, that promote critical thinking, problem solving and creativity, and most importantly will be fun!  The Spielgaben Wooden Educational Toy Sets are a quality educational toy that fulfils these important qualities.  It encourages children to think critically, explore, engage, challenge, experiment, discover and play while covering a range of learning areas and subjects. I believe that these beautifully crafted wooden educational toy sets will enhance children's natural gifts and provide many
educational benefits
such as:
Construction: balancing, stacking, spatial awareness
Mathematics:  numeracy, fractions, measurement, patterns, shapes, spatial awareness, mathematical thinking, geometric principles
Science: balancing, solids, scientific thinking
Imaginative Play: boost creativity and creative thinking
Problem Solving
Trial and Error: exploring strategies
Cause and effect
Promote active play
Sensory – texture, hands-on
Fine and Gross Motor skills and development
Coordination
Concentration and memory skills
Communication and language development: encourages interactions
Self-esteem: sense of pride and achievement
LINKS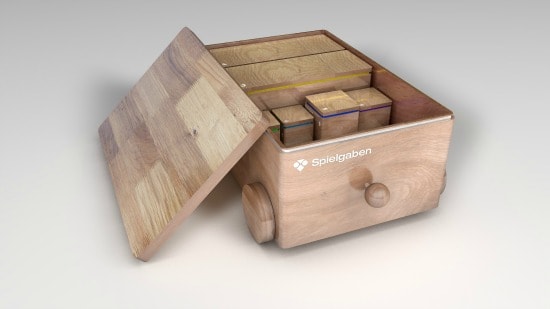 If you would like to get your hands on the quality Spielgaben Educational Box set
jam packed full of fun and learning
, they are available in Australia for an amazing introductory price which you can view
<HERE>. 
(Offer ends 4
th
June 2013).
It will be available in the US on Amazon later this year and also in the UK early next year, so keep an eye for when it comes available. 
Visit the Spielgaben website for more information and watch a video about the Spielgaben Educational Toy Kit.
{Disclosure: This is a sponsored post for Spielgaben. We were given a set of Spielgaben toys. I was not compensated in any other way for this post. The opinions expressed are purely my own and those of my children.}