Product Description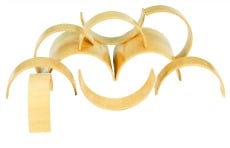 Arches and Tunnels Set of 10
Add a new dimension to block building as children incorporate this 10-piece set to create new and exciting structures in their block-play cities.
Set of 10 includes 2 tunnels and 8 arches.
Key developmental areas include, hand-eye co-ordination, manual dexterity.
Mathematical skills such as sorting, classifying and comparing.
The arch shapes will assist in an understanding of spatial awareness while experimentation with the unique shape will strengthen children's understanding cause and effect.
Social skills include increased communication with peers and sharing, team building scenarios.
Measures 13.9 H x 27.9 W x 6.9cm D.
Recommended Age: 3 Years +