Product Description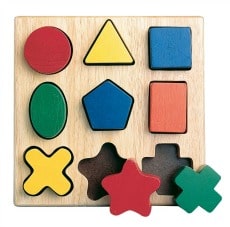 Basic Shapes Puzzle is ideal for young children. Nine different shapes including circle, triangle, square, oval, pentagon, rectangle, cross, star and plus shape.
Great for introducing children to shape and colour recognition.
Extend the learning possibilities by incorporating sorting by colour.
Key developmental benefits also include fine motor development such as hand-eye co-ordination and also assists children to develop problem solving skills such as spatial awareness in the correct placing of the individual puzzle pieces.
Great gift idea.
Recommended Age: 2 Years +