Product Description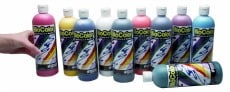 Set of 10 brilliant colours. Washable, Non-toxic, and Economical – a little goes a long way!
Use this versatile paint for marbling, to make stickers, putty, designing t-shirts and much more! Combine with BioColor Fabric Medium to turn into permanent fabric paint.
Set contains 1 x 450ml size plastic bottle of each colour: Red, Yellow, Blue, White, Black, Orange, Violet, Magenta, Turquoise, and Green.