Product Description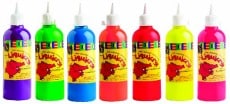 Handy 500 ml squeeze bottles. 7 strong colours to create dynamic artwork.
Australian Made acrylic paint with a thick consistency. Gluten free and made from eco-friendly ingredients by using organic pigments and biodegradable thickeners only.
Non-toxic. Contains non-phthalate materials.
Set includes: 1 x Scarlet, 1 x Yellow, 1 x Purple, 1 x Green, 1 x Blue, 1 x Pink, 1 x Orange.