Product Description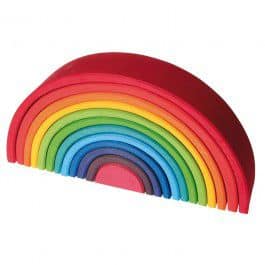 Grimm's Large Stacking Wooden Rainbow
This 12 piece wooden puzzle is crafted from alder and coloured using non-toxic water based dyes.
The large rainbow tunnel represents the air element.
This visually and mentally stimulating stacking wooden rainbow is designed to use in open-ended, imaginative play and is ideal to enhance creativity and sensory awareness.
Use the pieces to stack, sort and build unique sculptures, bridges, tunnels, fences or small house.
Measures 17 H x 36 W x 7cm D.
Ages 3yrs+