Product Description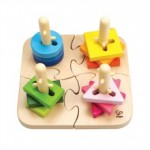 Inspire children's cognitive skills with this fantastic Hape Creative Peg Puzzle.
Featuring four individual posts on a plywood puzzle base this product is perfect for strengthening children's critical thinking and problem solving skills.
Each post on this puzzle contains a series of four shaped pieces, square, rectangle, circle and triangle with a unique shaped centre piece cut out.
Suitable for children 18 months plus this puzzle will enhance manual dexterity, manipulation skills and hand-eye co-ordination as each piece can only fit on one corresponding peg.
Great for encouraging children to recognise shapes, colours and spatial awareness this peg puzzle offers a myriad of learning possibilities that are both fun and educational.
13cm (h) x 20cm (d) x 20cm (w)