Product Description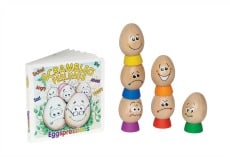 From the wonderful team at HAPE comes these quality crafted wood egg-heads.
Each uniquely painted to help children learn to identify and express their feelings in a fun and humourous way.
With an included story book, the HAPE Eggspressions support educators to engage children in open communication and encourages social, emotional and language development. 13 pieces.
Recommended Age: 2 Years +