Product Description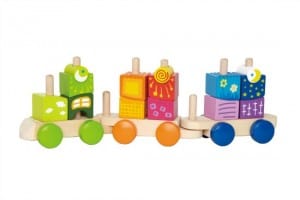 Hape Fantasia Stacking Block Train made from Maple Wood is ideal for the home or child care setting.
Beautifully crafted this Hape product would be a fantastic gift idea. Children will love the colours and patterns of the blocks and delight in engaging in train play. With three carriages the stacking block train is interconnecting, with each carriages wheels either green, orange and blue.
Children are encouraged to match the blocks to the carriage wheels teaching them important skills in sorting, classifying and matching.
As children place the individual blocks on the carriage posts they will require a level of hand-eye co-ordination, patience and manual dexterity.
Play with blocks provides children with an opportunity for social interaction, it encourages children to share, turn take and work as part of a team encouraging involvement from peers.
Recommended Age 2 Years +