Product Description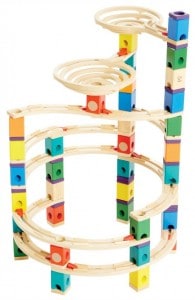 Ideal for motor development, hand-eye co-ordination this Hape Quadrilla The Cyclone Set is 198 pieces of fun.
Quadrilla is a system of blocks and tracks that allow the energy of a marble to travel in a 'make your own path'.
Children will be kept busy for hours developing ways to make the marbles run faster, take longer routes or get to the end of the track first.
Mathematics skills will be fostered with the use of Quadrilla as children will learn from discovering new alternatives about cause and effect.
Quadrilla is great for use in group activities to encourage socialisation and communication.
Vibrant coloured pieces in this Quadrilla set will assist children with colour recognition and problem solving.
Perfect use in the home, centre or classroom.
Includes: 36 x Coloured Blocks, 20 x height adjusters, 10 x base rings, 17 x connectors, 2 x twist rails, 12 x curved rails, 100 x marbles and 1 x cotton storage bag.
4 Years +