Product Description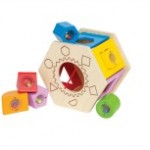 Classic 6-sided wood shape sorter with matching coloured shapes: circle, square, trapezoid, triangle, star and semi-circle.
Shapes are filled with beads and once put in the sorter can be removed by stretching the orange-elastic across the opening at the shape top or bottom.
Key benefits of this product include manual dexterity development placing the blocks inside the respective shape and problem solving skills in understanding spatial awareness.
Recommended Age: 12months +