Product Description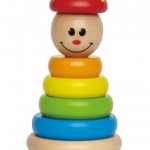 Beautifully crafted this Hape Stack and Swivel Clown is an ideal inclusion in any child care setting or home.
Supports fine motor development such as hand-eye co-ordination and manual dexterity while assisting with calming techniques.
This resource can also be useful in initiating social interaction while a child is absorbed in play.
Great gift idea.
Recommended Age: 12months +