Product Description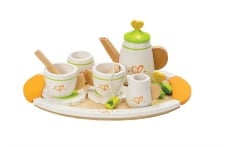 A beautifully crafted wooden tea set, makes a wonderful gift for any child.
Painted with non-toxic paints, the lovely decorated set allows children to practice the art of conversation.
Featuring 2 cups and saucers, a teapot, tea bag, sugar bowl, milk jug, spoon and a tray to carry it all on.
The set will encourage imaginative play which will enhance social skills, build confidence, assist in the development of language and more.
Measures: 25.5cm (h) x 1cm (d) x 18.5cm (w)
Recommended Age: 3 Years +