Product Description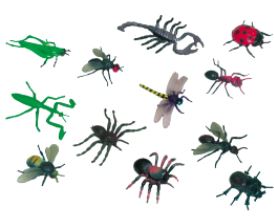 Insect Figurines Set of 12
Enhance learning or just for fun, this great set of 12 Insect figurines will delight children of all ages.
Durable and able to withstand the rigours of daily play, they are made from resistant and quality plastic.
Includes: 1 x Bee, 2 x Spiders, 1 x Rhinoceros Beetle, 1 x Scorpion, 1 x Ant, 1 x Queen Ant, 1 x Praying Mantis, 1 x Ladybird, 1 x Fly, 1 x Mosquito and 1 x Grasshopper.
Use as inspiration for Visual Arts or writing activities, or add a new dimension to displays and projects.
Encouraging children to engage in imaginative play will aid their development of language, social and motor skills.