Product Description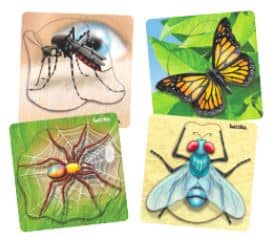 Wonderfully illustrated these set of 4 Insect Tray Puzzles will entice any young child to attempt to complete.
The vibrant colours and design are real to life and with 5 pieces.
Puzzles are a great way for children to develop important skills and children learn best when participating in play they enjoy.
Puzzles are ideal for developing Mathematical skills such as sorting, classifying and comparing in addition to fostering communication through visual discrimination.
In placing the puzzle pieces children will also develop manual dexterity and hand-eye co-ordination.
Includes: 1 x Fly, 1 x Butterfly, 1 x Spider and 1 x Mosquito.