Product Description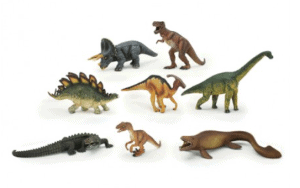 Mojo is passionate about creating products that are loved by children and adults alike. Their fun Dinosaur range features beautifully sculptured, hand painted Dinosaurs that have been inspired by real life.
Start the fun with highly detailed, sculptured, hand painted animals.
Inspired by nature and made from quality phthalate-free plastic.
The 8 included figurines are ideal for a multitude of uses and activities across a range of curriculum areas. They are perfect as inspiration for Visual Arts or writing projects, and older kids or adults will love collecting them and using in multimedia work to create stop-motion animations.
To enhance learning or just for fun, these animals are sure to encourage hours of imaginative play. Lightweight and easy for little hands to move around, they are suitable for both indoor and outdoor play.
Includes: 1 x Velociraptor, 1 x Stegosaurus, 1 x Parasaurolophus, 1 x Triceratops, 1 x Brachiosaurus, 1 x Tylosaurus, 1 x Sarchosuchus and 1 x T-Rex.