Product Description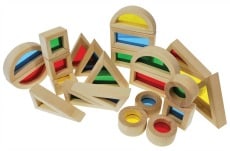 These beautiful hardwood blocks with coloured acrylic centres are a wonderful inclusion to any block play area.
Stack them, look through them or even incorporate with any light box or light panel.
This fantastic set contains 24 individual blocks in six different shapes and with 4 transparent colours.
Rectangle measures 10 x 5 x 2.5cm.