Product Description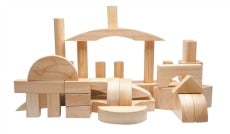 All blocks have a varnished finish. Blocks provide children with a multitude of learning opportunities and skills development, they are fun and can be paired with many different accessories to extend their learning potential.
Children learn best when participating in play they enjoy and both boys and girls alike love block play. Blocks can be used for developing mathematical skills such as sorting, classifying and comparing.
The range of sizes and shapes are ideal for developing children's understanding of spacial awareness, shape recognition and an understanding of cause and effect.
When building with blocks important motor skills are fostered such as hand-eye co-ordination, manual dexterity and manipulations. Building blocks introduce children to persistence and patience.
Includes: 2 x Large Curved Bridges, 2 x Medium Curved Bridges, 2 x Small Curved Bridges, 1 x Flat top bridge, 1 x S-bend, 2 x Crossroads , 4 x Half Circles, 8 x Quarter Circles, 2 x Pairs of Triangles 13.2cm L, 2 x Pairs of Diagonals 6.6cm L, 4 x Pillars, 4 x Half Pillars, 4 x Quarter Pillars, 4 x Small Columns (3.2. x 13.2cm), 4 x Half Small Columns, 4 x Quarter Small Columns, 2 x Half Large Columns, 2 x Quarter Large Columns, 2 x Roman Arches and Half Circles and 12 x Squares (6.6 x 3.3 x 6.6cm).