Product Description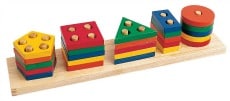 Ideal for the home or child care setting this Santoy's Shape Sorter will introduce children to differentiation of shape and colour.
Learning opportunities include hand-eye co-ordination and an introduction into mathematical concepts of spatial awareness.
The varying pegs will introduce children to basic counting skills and encourage perseverance through trial and error.
Recommended Age: 2 Years +