Product Description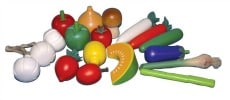 Santoys Wooden Vegetable Set 18 Pieces
Endorsed by Life Education for its support of healthy eating concepts.
Featuring a range of beautifully crafted wooden vegetables painted in vibrant colours. A welcome addition to any home play corner, the vegetable set will encourage imaginative play and provide opportunities for developing communication, language and socialisation skills.
The realistic shapes make them great to use in sensory development activities.
Carrot measures 10cm L.
Recommended Age: 3 Years +