Product Description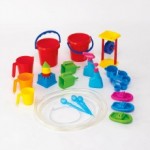 Fantastic set of 27 water play tools to encourage exploration and fun with water.
Set is packed with a wide selection of fabulous items that will enhance any activity.
Features floating boats, water wheel, jugs, buckets, measuring cups, spoons, tubes and more.
The perfect addition to an Activity Water Tray.