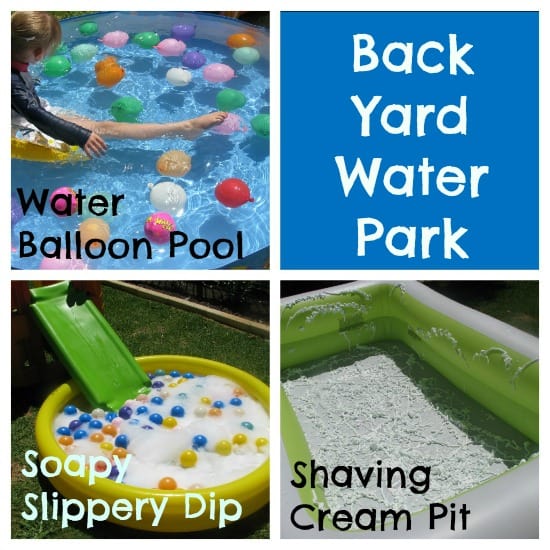 Kids absolutely love water parks, so with the beautiful warm spring weather in full swing here in Australia I thought we would set up our very own Back Yard Water Park.  They are a lot of fun for kids, it gets them outdoors and active and also secretly encourages many opportunities for learning.    We set a range of different theme stations for the kids to play and explore, some were more sensory play based and others were imaginative play based.  Altogether we had seven water play stations in our Back Yard Water Park.    We were very mindful of not wasting water in our park, so we planned and set up activities that did not require a lot of water.  Once we had filled the mini pools and buckets, we did not need any more water.  We also kept the water quite shallow in the pools for Miss 2 and once we had finished playing, we watered our gardens and lawn with the left over water.   *
Like all activities shared on learning4kids – supervision is required at ALL times
*  
Water Balloon Pool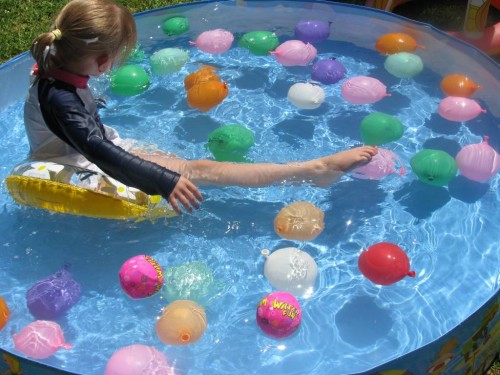 One of the pools we set up was a Water Balloon Pool, a sensory play pool which included about 35 balloons filled with water.  We did not use the traditional smaller water balloons but instead we used party balloons as they were stronger, less likely to break and lasted longer when being handled.  We had a few paddling pools that we had put away from last summer and reused them for our water park.  We also purchased 2 cheap pools from our local shop for about $5.  
Water Squirters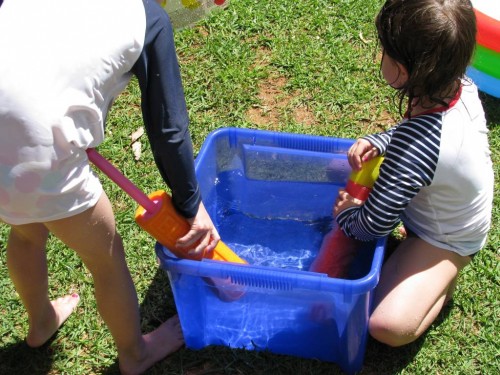 We also had a bucket set up filled with water for my girls to fill their water squirters. 
Soapy Slippery Dip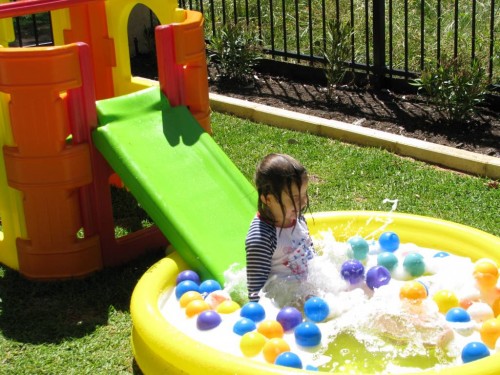 We utilised our backyard slide and placed a small paddling pool underneath filled with water, small amount of bubbles (bubble bath) and some small plastic balls.
Wash a Cubby House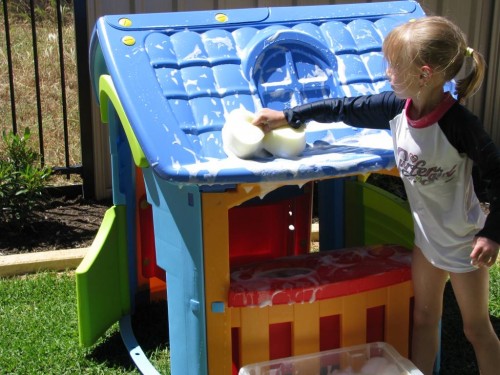 Another water–play based station we had set up in our Back Yard Water Park was to wash the cubby house.  We had a bucket of soapy water and giant sponges nearby for the activity. Kids get all soapy, slippery and wet as they wash the cubby house and enjoy the pretend play.  The bonus is that the cubby house gets a good clean too. 
Shaving Cream Pit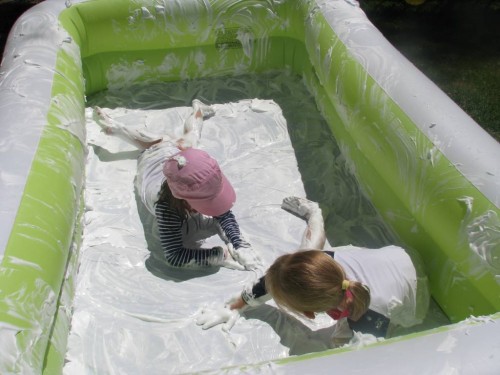 More sensory play but this time with shaving cream!  We set up a shaving cream pit in one of our inflatable larger pools and my girls had so much fun slipping and sliding around getting all messy.  You do not require a lot of shaving cream for this activity as I have only used one 250 ml bottle, with the wet clothing my girls were wearing help make the shaving cream go further.  
Clean Up Pool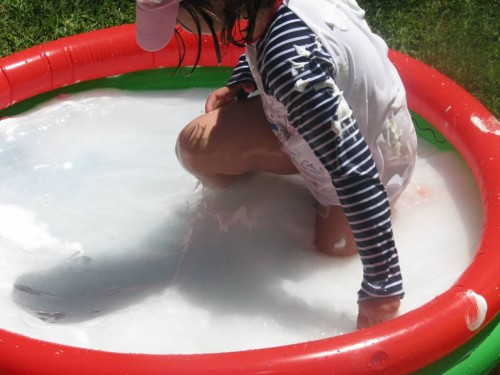 Our mini clean up pool was great for washing off most of the shaving cream before jumping into the Water Balloon Pool or Soapy Slippery Slide.  It did not keep these pools completely clean but it help to make the water last a lot longer without needing to replace it. 
Washing Toys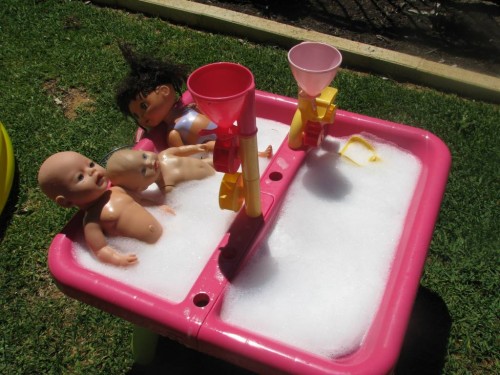 Bringing more imaginative play into our water park with our water and soap play based station that involves washing toy dolls.  You could alternatively make this washing up pretend kitchen toy dishes.  Kids get all soapy, slippery and wet as they wash their toys and enjoy pretend play.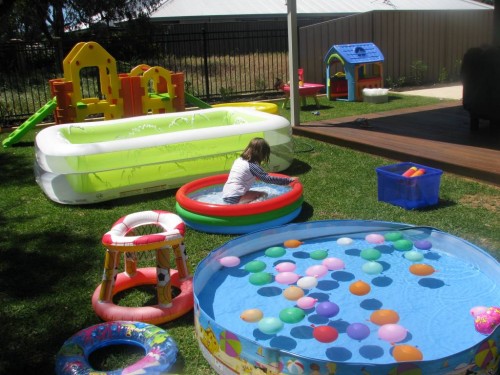 A quick photo of our Back Yard Water Park before it was open for some serious play.  Towards the back we have our Wash a Cubby House, then the Washing Toys station, followed by the Soapy Slippery Dip, Shaving Cream Pit, Clean-Up Pool, Water Squirters Tub and Water Balloon Pool.    You can make your own very special back yard water park by finding and using things that you have around the home.  I hope our homemade water park inspires you with some ideas to create your own this summer.  Have fun!!

Learning benefits of a Back Yard Water Park
Lots of gross motor skills – crawling, sliding, pulling, wriggling and navigating objects.
Sensory exploration – touching, feeling and looking for a way through.
Developing movement and coordination
Building strong bodies: muscles, bones and hearts
Language development – using repetitive words and descriptive language.
Loads of fun and laughter!