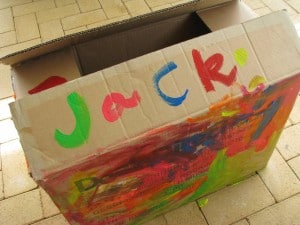 Jack in the Box is a favourite game of my kids! All you need is a box!
It involves singing the well-known nursery rhyme Jack in a Box and acting out the words on cue to the song. We use the box as a creative prop and make the acitivty fun!
We decorated our box using paint…..any excuse to get the paints out!
Jack in a box is so much fun; it will have your kids wanting to do it over and over again! It is also great for all ages; even my littlest Miss 1 loves to play.
Jack is hiding down in his box…….until someone opens the lid…….BOO!!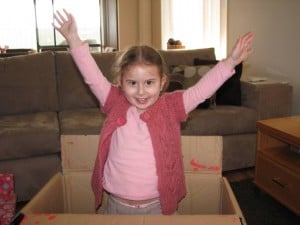 Jack in a box jumps UP!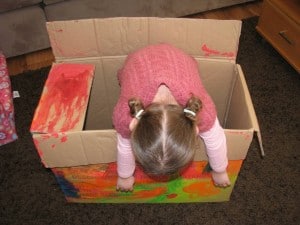 Jack in a box goes FLOP!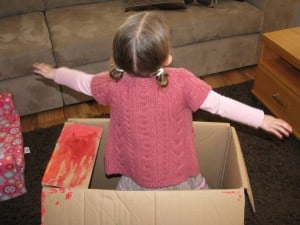 Jack in a box goes ROUND and ROUND!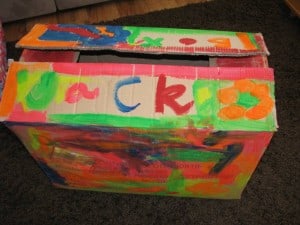 The lid goes down with a PLOP!
You don't need a box to do this activity! I sing this song while holding Miss 1 and carry out the actions on cue with the words. This makes her giggle endlessly!
Here is an example of what you can do without a box! Be sure to carefully support the child's body through the actions.
Jack in a box jumps up! (Jump up holding child close to body)
Jack in a box goes flop! (Flop child out away from body-supporting head & neck)
Jack in a box goes round and round! (Spin around holding child)
The lid goes down with a plop! (Gently drop your body while holding your child in a downwards action)
Ideas and Tips:
To personalise the game; you could replace the name Jack with your child's name. "Sarah in the box jumps up!"

Nursery rhymes and songs are great for developing oral language skills.

Kids love to play with boxes and nursery rhymes.
Printable Lyrics for Jack in the Box
Thank you to my beautiful Miss 3 for being part of the photos….xx