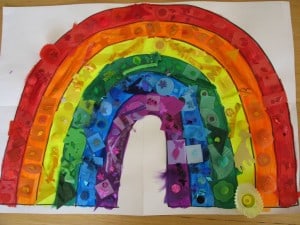 Adding a little bit of this and a little bit of that to create a rainbow collage!
We had so much fun searching around the craft box looking for coloured items to match the colours of the rainbow.
First we painted the sections before gluing on all the other items.
We have used a combination of feathers, pipe cleaners, torn paper, patty pans, confetti, foam shapes, ribbon, wool, felt, pom poms, cellophane, coloured match sticks, fabric, felt and buttons.