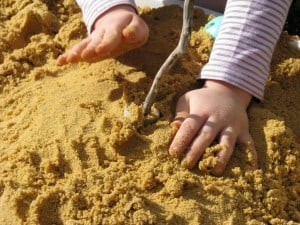 Sand is a toy! The less a toy does the more a child will learn!
Sand is such a great sensory toy for kids as they explore their sense of touch and play and discover the wonderful texture of sand!
There are hours of fun and learning to be explored with sand as it promotes and encourages imaginative play!
What you will need?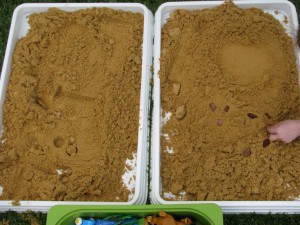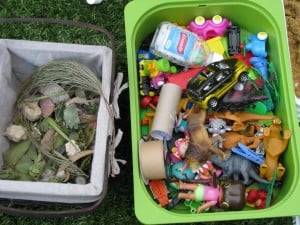 You will need sand, sand…… glorious sand! A box filled with bits and pieces, toy animals, recycled items such as toilet rolls, empty bottles and boxes and also a collection of natural items from the garden such as leaves, twigs and stones.
Let's Play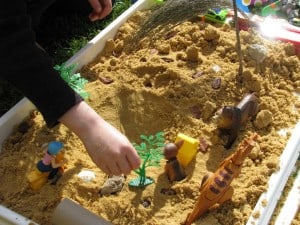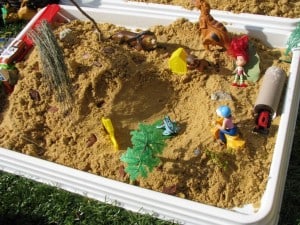 Sand allows and encourages the making and creating of an imaginary world and stories. Pretend cars traveling though toilet roll tunnels, a frog sitting in a pond and a little doll sun baking on a dried leaf.
Let's Learn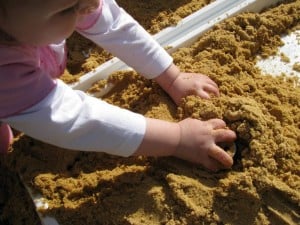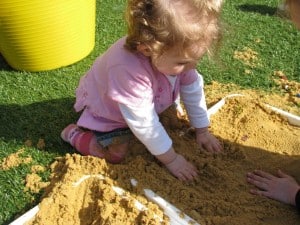 Miss 15 months enjoyed touching, feeling and exploring the wonderful textures of the sand.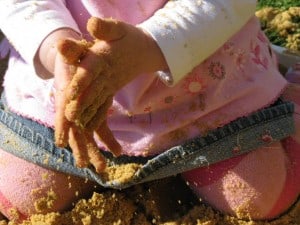 Benefits of sand play:
Development of fine motor skills

Eye & hand coordination – watching and doing and coordinating these actions.

Promote creativity and imagination through role and developing stories.

Sensory- Development of the sense of touch. Feeling and manipulating objects and moulding the sand.

Language development – playing with sand is a social activity requiring speaking and listening, also developing vocabulary. Practising and experimenting with language.