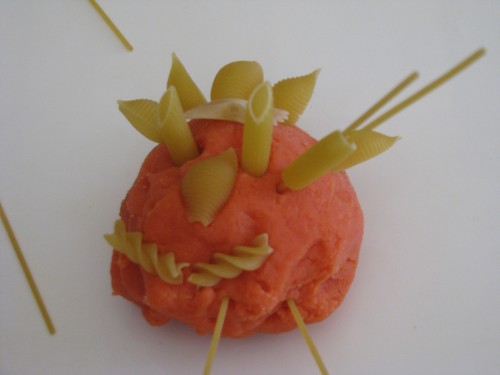 Let your child's imagination run wild as they create and explore play dough and pasta.
Through moulding and manipulating play dough and pasta together is a great play opportunity for kids to experiment with the materials in an unstructured activity.
What you will need?
You will need play dough and an assortment of dry pasta. Here we have used bows, shells, spaghetti, spiral and penne. Click here to download and print a recipe for making play dough.
Let's Play 
Making and creating an array of weird and wonderful things: Using the different pasta shapes to create eyes, mouths, noses and other features on pasta play dough monster. Also making a pasta play dough cake, by using the different pasta shapes to create decorative patterns.
Let's Learn 
I love the imagination: Decorating and making a pasta play dough pizza and creative flowers for their pasta play dough garden.
Learning Opportunities:
Spatial awareness – experimenting with shape and space
Creative Thinking and concentration skills
Oral language development – practising and experimenting with new words
Building up their fine motor skills and coordination
Encourages imagination and creativity