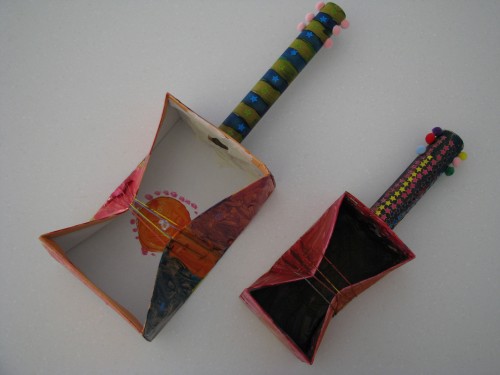 An empty shoe box + elastic bands + a cardboard tube = Homemade Guitar and endless hours of fun!
These guitars are such a simple homemade instrument to make and will bring so much fun to kids play times! The elastic bands when stroked make a similar sound to that of a guitar, a bit of a twanging sound, making playing with them seem that much more real.
What you will need?
You will need an empty shoe box (not the lid), elastic bands, masking tape, scissors and a cardboard tube. To decorate the guitar we used paint, stickers and pompoms.
Let's Make 
Trace around the end of the cardboard tube on one end of the shoe box and cut it out. Make small vertical cuts into one end of the cardboard tube, these cuts will be opened up later to help attached it to the shoe box with masking tape. Slide the tube through the hole and open up the cuts parts to attach to the box with masking tape.
Stretch the elastic bands over the shoe box which will compress the centre of the box form a guitar like shape.
Let's Create 
To personalise their guitar my girls painted them and Miss 5 also traced around a small plate to make a circle on the inside of the shoe box just like a real guitar.
Let's Play 
When the paint was dry we stuck on some stickers and glued some pompoms onto the cardboard roll.
Let's Learn 
Put the kid's favourite music on and have fun! These guitars have brought so much fun and play as my girls have pretended to be in a rock n' roll band. They have even pretended that the guitar was a ukulele.
Learning Opportunities 
Develop a sense of pride and achievement.
Encourages and promotes imaginative play and creativity.
Fine motor development and eye-hand coordination.
Fun!