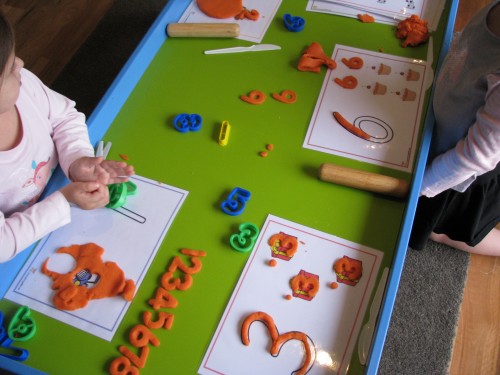 We had so much fun making numbers with our Orange Scented Play Dough. It is a fun activity to introduce or reinforce learning about numbers for kids and develop an understanding of 'how many' to make a number.
This activity involves manipulating play dough to create numbers using the Printable Number Play Dough Mats as a guide.
What you will need?
You will need a blob of play dough, Printable Number Mats, number cookie cutters (optional), rolling pin and plastic knife.
I have laminated the Number Mats to make them last longer.
To download and print the Number Mats click here : Printable Number Play Dough Mats
Let's Play 
Miss 22 months rolling the play dough between the palms of her hands to create a 'sausage like' shape and then creating the shape of the number using the Number Mats as a guide.
Let's Learn 
Once the number shape is made, roll out a flat piece of play dough using the rolling pin and press the number cookie cutter corresponding to the number mat into the play dough to make that many of the number. In this case we put the number two cookie cutter into the play dough to make 2 number twos, as seen in the photo below.
Place the play dough numbers over the top of the pictures on the Number Mats to create 'how many' that number is made up of.
Miss 22 months only made one number with me before playing with the play dough by herself and Miss 4 also created a line of numbers using the tools provided for this activity. It is also important to allow the freedom to play, experiment and explore with the play dough and after each activity this is encouraged.
The Number Play Dough activity is great for……
Spatial awareness – experimenting with shape and space
Eye and hand coordination
Fine motor development
Recognising numbers and how many to make the number.
Alphabet Play Mats
We also have Alphabet Play Dough Mats which you can download and print!
Click on the image to view the full post.