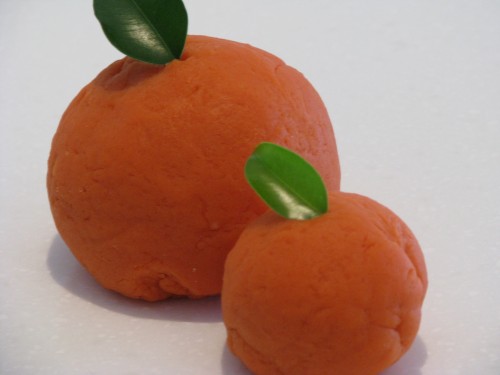 Orange Scented Play Dough is a refreshing scent adding to the sensory experience of playing with play dough. It also creates an association with colour and smell.
The Orange Scented Play Dough is made using a basic play dough recipe with added orange essence and orange coloured food dye to imitate that of real oranges. Miss 4 thinks that it smells just like peeling an orange!
What you will need?
1 cup plain flour
1 Tablespoon oil
200ml Water
50ml Orange Essence
½ cup salt
2 Teaspoons cream of tartar
1 Teaspoon of orange food colouring (or yellow and red)
How to make it?
Pour all dry ingredients, flour, salt and cream of tartar together in a saucepan.
Add oil, food colouring, orange essence and water to dry ingredients.
I use a whisk before heating as I find this helps remove lumps and blends the ingredients well.
Cook over medium heat constantly stirring until it becomes a thick blob.
Then turn out onto a clean surface and knead into a smooth blob.
Allow the play dough to cool before playing with it.
Store in a plastic zip lock bag or air tight container.
To download and print this recipe click here: Printable Orange Scented Play Dough Recipe
Play ideas using the Orange Scented Play Dough Recipe: Number Play Dough