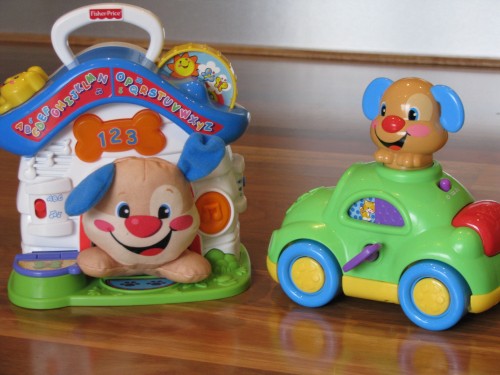 IMPORTANCE OF PLAY:
Play is a child's way of engaging and making sense of the world. Through play young children learn practical life skills such as dressing themselves, how to cooperate and share with others. Essentially they are experimenting with decision making on how to behave and are also practising their social skills and fundamental motor skills. Children learn from experience: from what happens around them, from what they see, hear, smell, taste and touch. To absorb those experiences and make sense of the world, they need to be engaged in play. Today I am sharing with you two Fisher Price toys that promote this fun and learning through play!
PUPPY PLAYHOUSE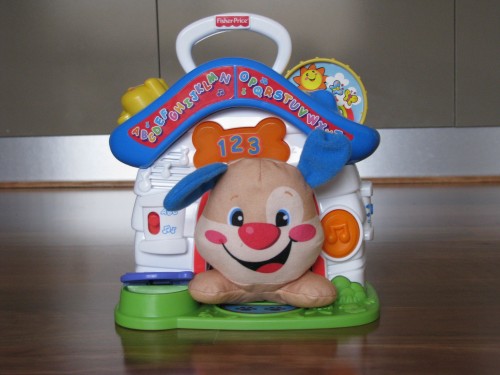 The Fisher Price Puppy Playhouse is a super cute toy and the puppy is incredibly adorable. My little Miss 22months is repetitively putting puppy in and out of the playhouse and carrying it around the house with her. She love to pretend to take her puppy on walks and feed him bickies from his bowl which is attached to the house. The Fisher Price Puppy Playhouse promotes so much fun and learning! It is a toy that is perfectly suited for toddlers aged 6 – 36 months as it arouses their curiosity to learn, touch and feel the busy activities, listen to the repetitive songs that encourage learning the alphabet, numbers, colours and so much more.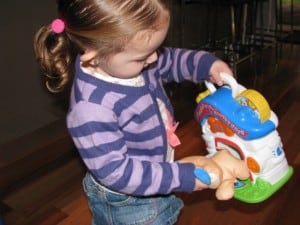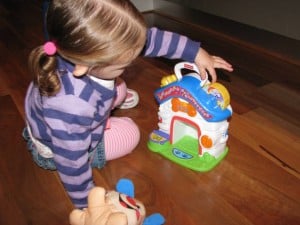 Learning through play with the Puppy Playhouse:
Fine motor skills and hand-eye coordination through pressing, touching, spinning and manipulating the buttons and other features on the playhouse.
Cause and effect: discovering that shaking the puppy will cause a rattling sound.
Language development: listening to repetitive songs about colours, greetings, numbers and opposites. Making noises and sounds of a puppy dog.
Imaginative play: role play and pretending to be a puppy and, or caring for a puppy dog.
PUPPY'S LEARNING CAR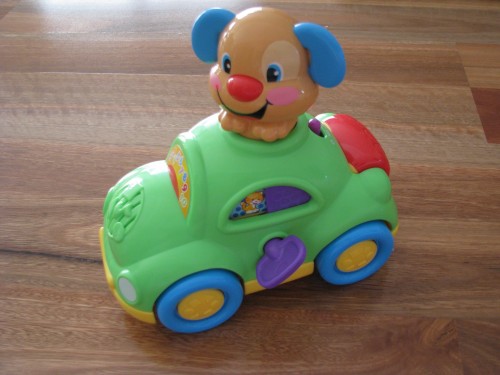 Broom, broom……beep, beep! You can already hear and see the fun that can be had with the Fisher Price Puppy's Learning Car! Children are attracted to the bright colours and there are fun parts to twist, twirl and roll. This is a fabulous toy for all toddlers aged 6 – 36 months who are fascinated with movement as they can crawl alongside as they play and push Puppy's Learning Car along the ground. It has a number of cute songs that encourage the learning of numbers, greetings and more.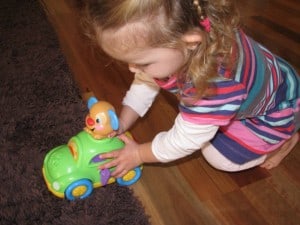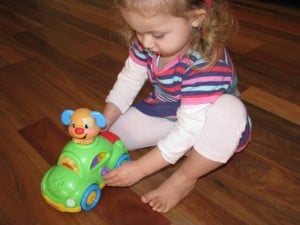 Learning through Play with Puppy's Learning Car:
The Puppy's Learning Car helps to build gross motor skills as it encourages toddlers to chase and crawl or following along as they push the car along the ground.
Develops fine motor skills and hand- eye coordination through twisting, twirling and rolling the features on the toy car.
Language development: listening to repetitive songs about colours, greetings, numbers and opposites. Encourages the use of words such as broom, broom and beep, beep.
Cause and effect: through action is a reaction and being rewarded with fun responses such as twisting the purple key to get music and engine sounds.
GIVEAWAY:
We have an awesome giveaway for two of our lucky readers to win!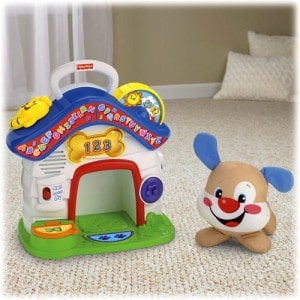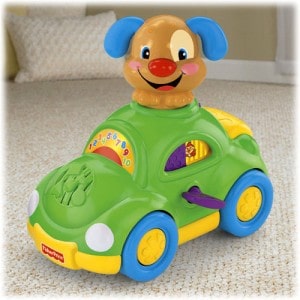 1x Puppy Playhouse and 1x Puppy Learning Car
To enter, all you need to do:
Is leave a comment here on learning4kids – answering the question: "Which Fisher Price Toy featured here today is your favourite and why?"
Good luck and I can't wait to read your responses!
Sorry this giveaway as now closed!
This post is sponsored by Nuffnang, for full details, click here