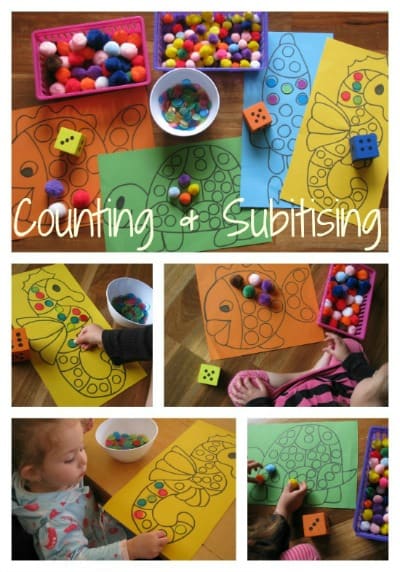 What is Subitising (Subitizing)?
Subitising refers to immediately knowing how many items lie within a visual scene for a small number of items. It is to have a rapid and confident judgement to know at a glance and without counting to identify the number of items in a group. For example, when a dice is thrown the observer at a glance, immediately and accurately knows how many dots lie on the face of the dice without counting.
These dice activities I have set up for Miss 4 is to practice and develop her subitising skills and to also involve Miss 2 to help her begin this learning of subitising and also counting. We have used a number of props and fun drawings to make the learning fun and motivating!
What you will need?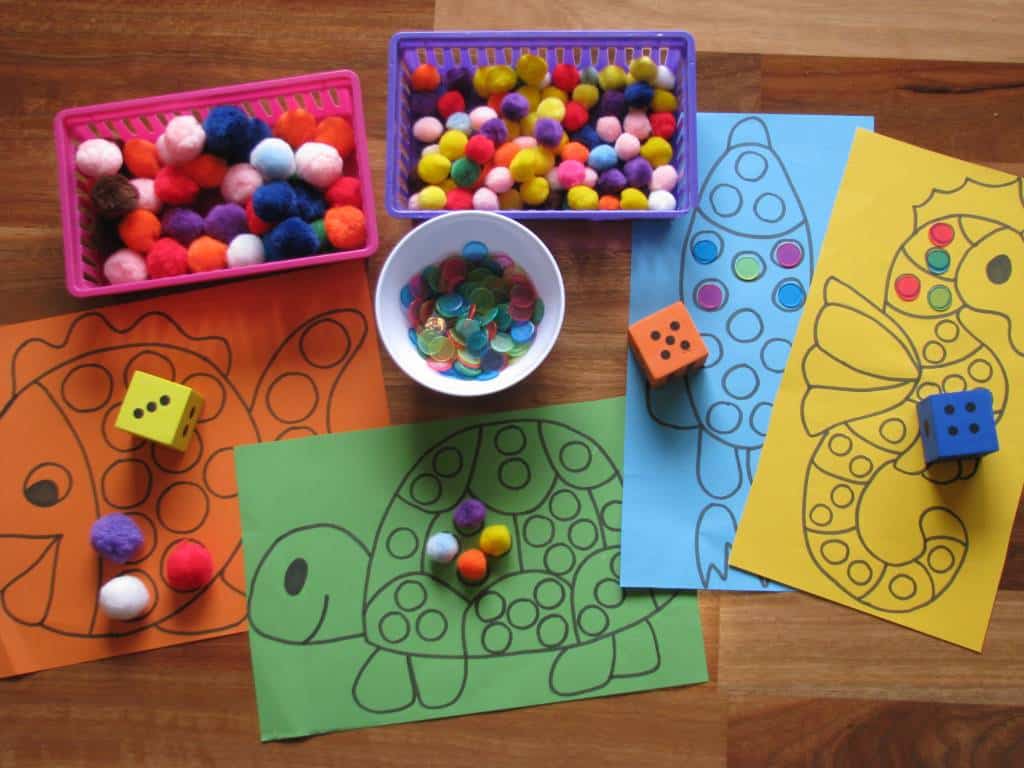 You will need dice, small round tokens or buttons, medium and small pompoms and subitising pictures with rounds circles to fill with the pompoms and tokens.
I made our subitising sheets using the basic outline of some cute pictures that I photocopied and enlarged. I then traced around the outlines onto coloured paper and added the circles free hand. The larger circles you see on the orange fish have been traced onto the fish using bottle tops.
Due to popularity I have created some printable templates for you to use for this activity. They are different to the pictures shown here in this post but they are still super cute and will work perfectly for this activity. You will find a Bee, Butterfly, Cupcake, Apple Tree and a Fish.
You can download and print them here:
Printable Subitising and Counting Template – Butterfly
Printable Subitising and Counting Template – Bee
Printable Subitising and Counting Template – Fish
Printable Subitising and Counting Template – Cupcake
Printable Subitising and Counting Template – Apple Tree
Let's Play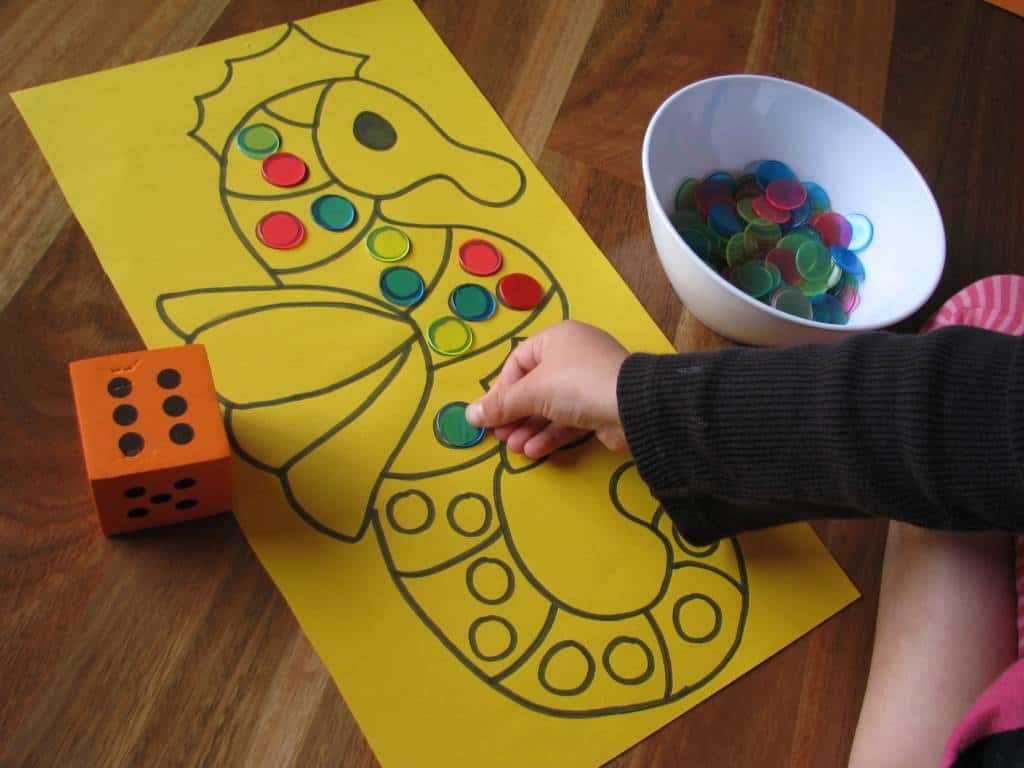 The aim of this activity to develop the skill of subitising by creating an environment (visual scene) to recognise the number associated with a particular pattern on the dice, with the clusters of circles on the paper and collections/groups of pompoms and tokens made to match that of the dice.
Here the first picture is a great example of demonstrating that 3 groups of items/numbers make 5. 2 and 2 and 1 makes 5. The way that the circles are clustered together and the tokens are placed help create this visual pattern for kids to see and make connections with the number.
This activity also exposes kids (if they are ready) to the concept of addition. First we rolled a 5 and then a 6, how many tokens do we have?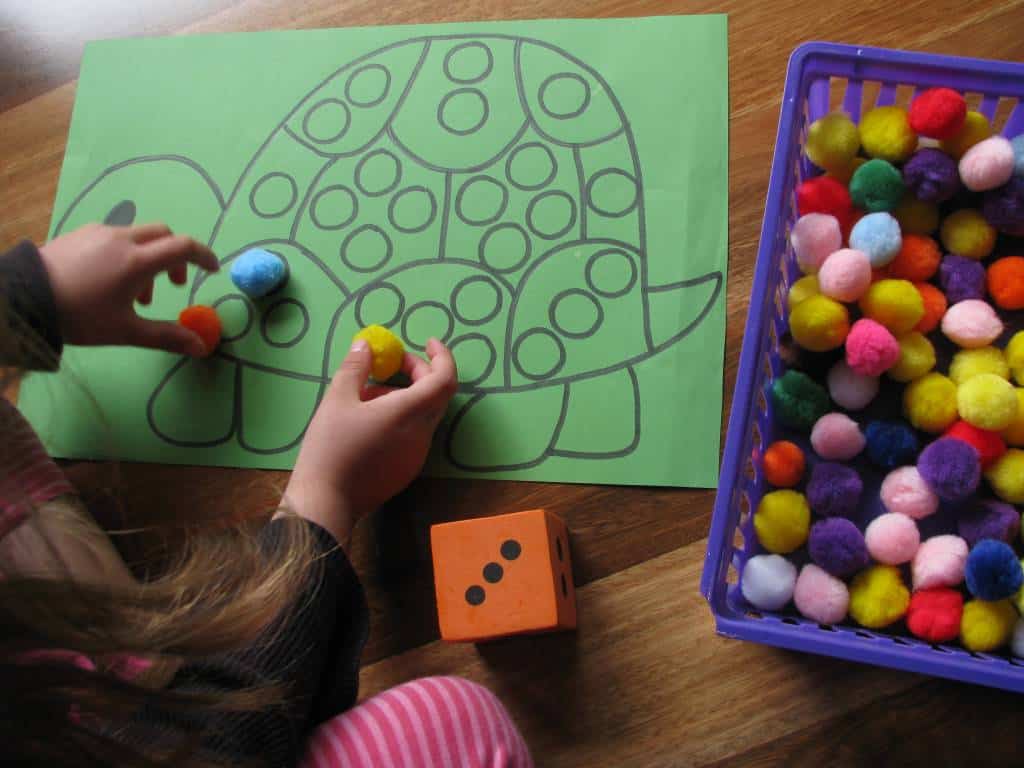 With some of the drawings I deliberately placed the circles into a collection or cluster of circles creating a visual number pattern to assist with the development of this instant recall of 'how many?' without needing to count.
Let's Learn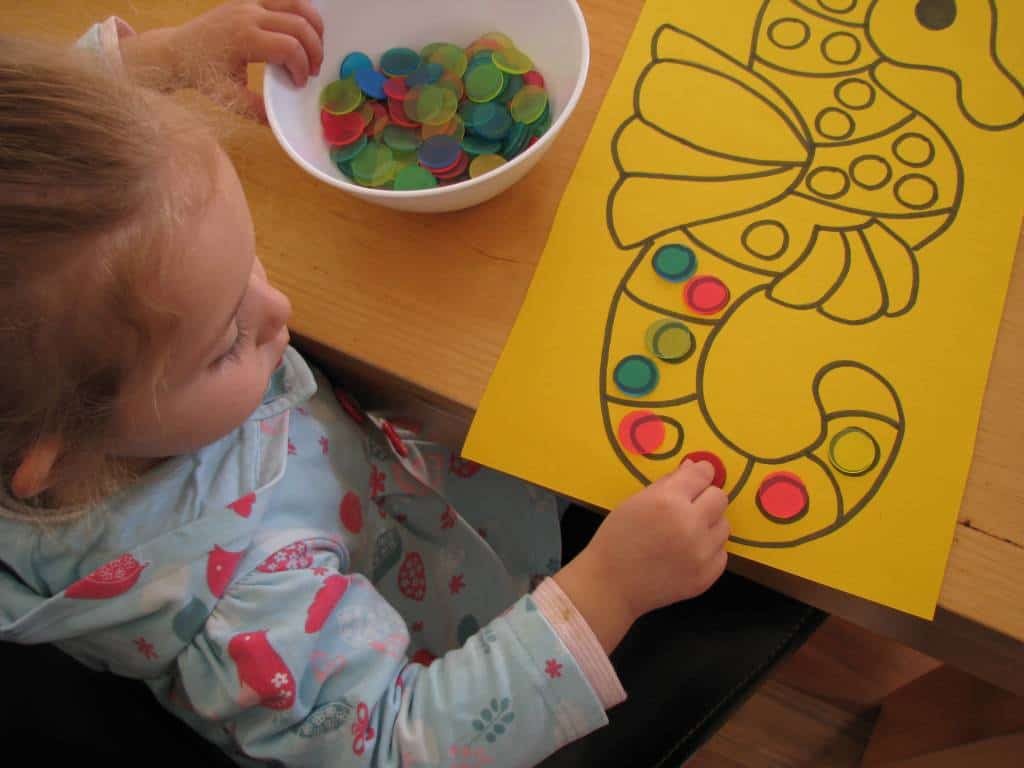 Miss 2 had so much fun with this also! As she placed the each token onto the seahorse circles I counted out loud with her as she listened and sometimes also repeated. This is not just a fabulous activity for the littlies to be introduced to counting and basic subitising but also the wonderful development of fine motor skills as each small token is placed carefully over the circles to colour the sea horse picture in.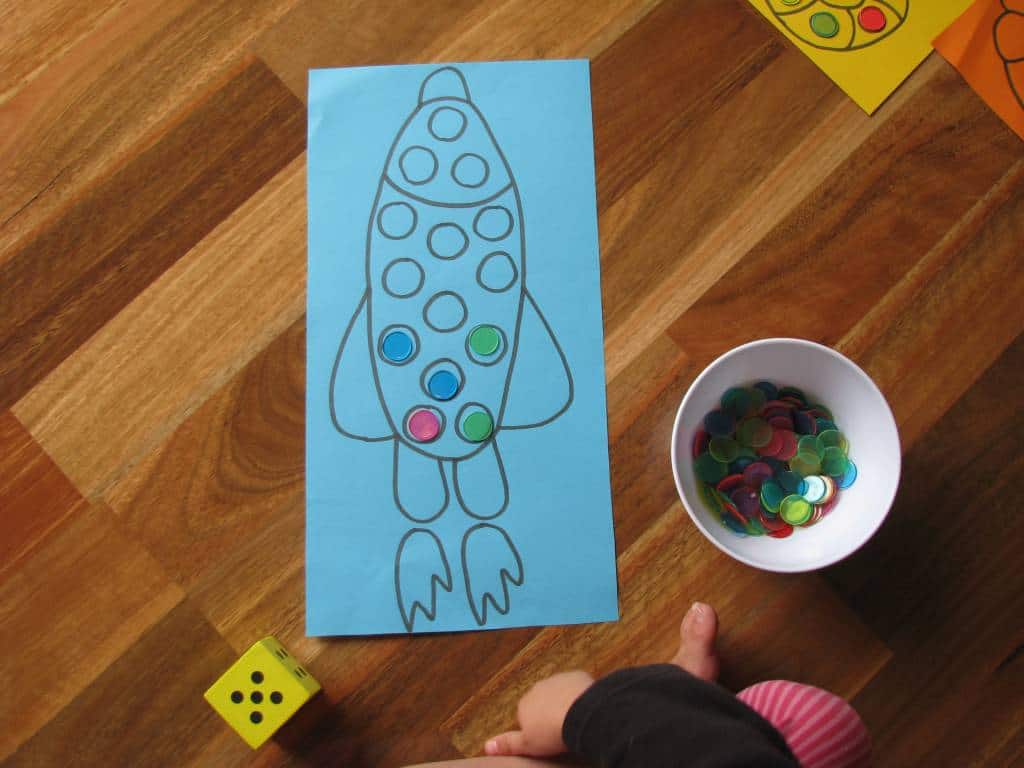 Why is subitising Important?
Subitising contributes to early forms of grouping. Seeing parts of a whole or that numbers are made up of other numbers.
Understanding number relations: Interpreting number in terms of part-whole relationships makes it possible for children to think about a number as being made up of other numbers
Understanding number relation: the notion that numbers are within numbers is important for separating, grouping and combining numbers as well as for multiplication, division and measurement.
Available in Learning 4 Kids Shop
For a time saver option, I have created these cute, colourful and bright Printable Counting & Subitising Activity Game Mats. The pack includes 20 printable mats: a duck, whale, turtle, car, butterfly, rainbow, truck, fish, bus, present, mouse, teddy bear, octopus, dinosaur, penguin, balloon, grapes, watermelon, cupcake.