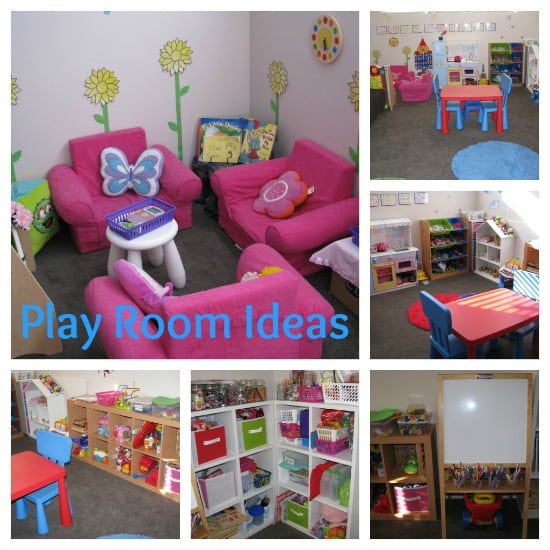 You may be familiar with our posts about our play room and how we set it up and change it around to keep the kids interested and motivated. On our previous 'Our Play Room' posts I have discussed creating different zones for individual activities. This time, I was keen for a bit of a change and decided to move our play room around and push all our furniture and toys to the walls leaving a large open space in the middle. I am very interested to see what creative play ideas and games the kids come up with, with this arrangement.
You will also notice a lot of kid's artwork on the walls, these are from our Learning Colours Series and is our way of reinforcing and continuing the learning that has already taken place with these craft activities.
Our reading corner is a place for the kids to relax, read books and enjoy some quieter activities. The sunflowers on the wall were made from our Learning Colours Series: Yellow and we have a free printable and all instruction available by clicking here.
Pretend play kitchen, storage containers filled with puzzles, threading beads and other toys. Dolls house book shelf and a table and chairs at the centre of the room. The number charts are homemade, for full instructions click here.
I love our cube book shelf! It is great for keeping toys off the floor and we also have fabric tubs that slide and fit easily into the cubes.
The magnetic side of our easel has been set up this time with paper available on the shelf nearby and pencils and crayons set up in small cups. I have also placed a tub of magnetic letters, numbers and games nearby for a change of activity for the kids.
Our craft storage cube shelving. Don't look too close it is need of a serious clean out!! 🙂 Baskets, jars, containers and fabric tubs are great for storing all those crafts supplies and hiding the mess!
I would love to hear and share you fabulous ideas!!