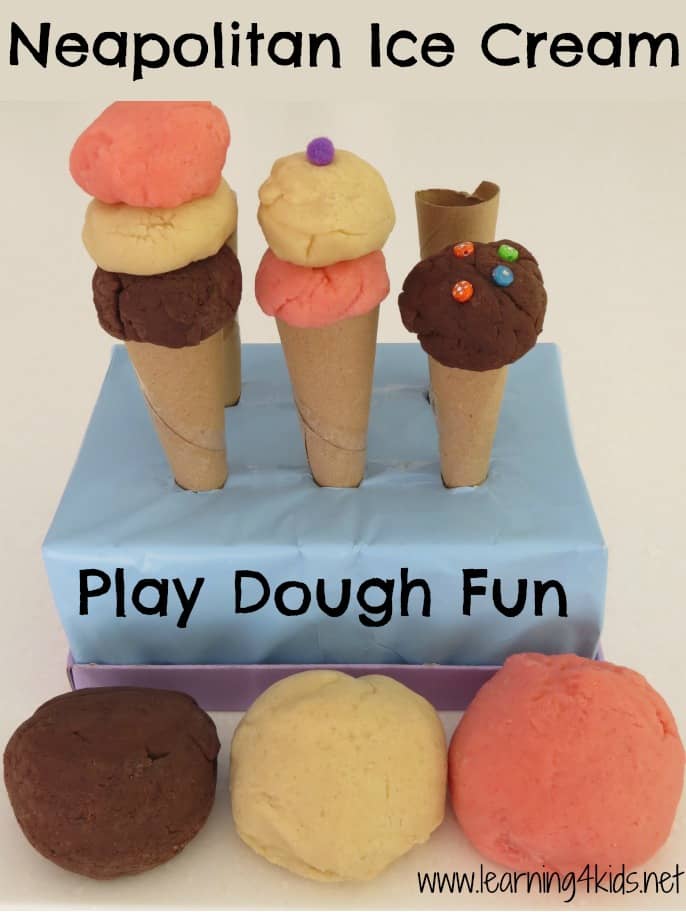 Neapolitan Ice Cream Play Dough is a wonderful and fun sensory activity to arouse the imagination and creativity. The Neapolitan Ice Cream Play Dough is scented with chocolate, vanilla and strawberry and smell just like the real Neapolitan ice cream. Children can explore their sense and experiment, pretend and make the most amazing creations with this fun play dough.
What you will need?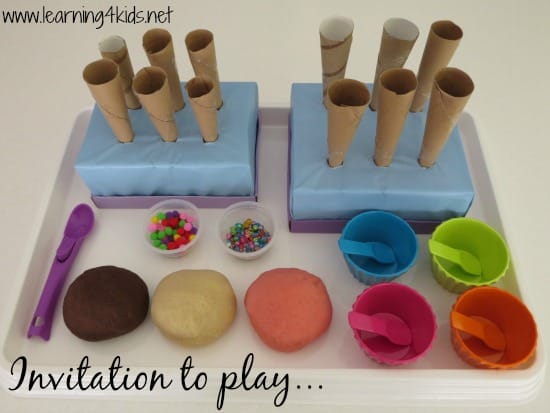 To set up this invitation to play you will need the play make the Neapolitan Ice Cream Play Dough. It is super easy and you can find the <recipe here>.
You will also need ice cream scoops, beads to imitate sprinkles, miniature pompoms to imitate candy lollies, ice cream bowls and spoons and also cardboard ice cream cones.
To make the pretend ice cream cones we used paper towel rolls and cut them length ways down the middle. We then twisted the cardboard to form the cone shape and placed a piece of sticky tape on the join to hold it together.
To make the ice cream stand, we took two empty shoe boxes and turned them upside down and carefully pressed 6 holes into the box with scissors, twisting to make the holes wider. Next we covered the shoe boxes with coloured wrapping paper and again pressed through the holes with scissors. Finally, we then neatened up the holes by folding sticky tape over the rough edges.
Let's Play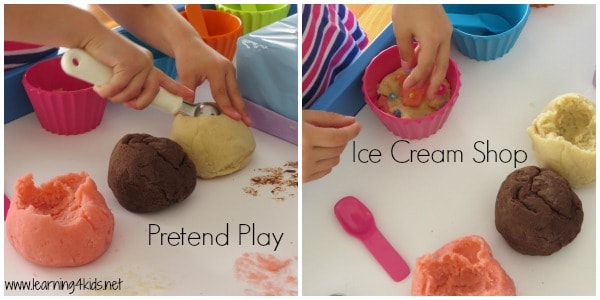 Some ideas:
Pretend play an ice cream shop.
Create colour patterns with the different coloured play dough on the ice cream cones.
Sing songs about ice cream such as "I Dream of Ice Cream".
Play Guess the Scent: cover your child's eyes with a cloth and place each of the scented play dough underneath their nose. They are to try and guess which scented/flavour play dough they can smell.
Make marble patterns with the play dough by squeezing and pressing the different colours together. Use a cookie cutter to make pretend marble patterned cookies.
Learn about counting and sharing (division) by counting and sharing out a number of scoops between a number of bowls or people.
Let's Learn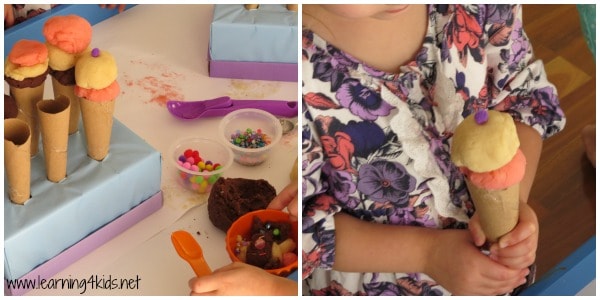 Learning Opportunities
Creativity
Fine Motor Development
Hand-Eye Coordination and Control
Cause and Effect
Concentration
Spatial awareness – experimenting with shape and space
Language development
Imaginative play – Pretend Play Ice Cream Shop
Recognising patterns, colours and scents.
If you liked this activity then you will enjoy our Imaginative Ice Cream Shop <CLICK HERE>