Colour Activity – Coloured Ice Boats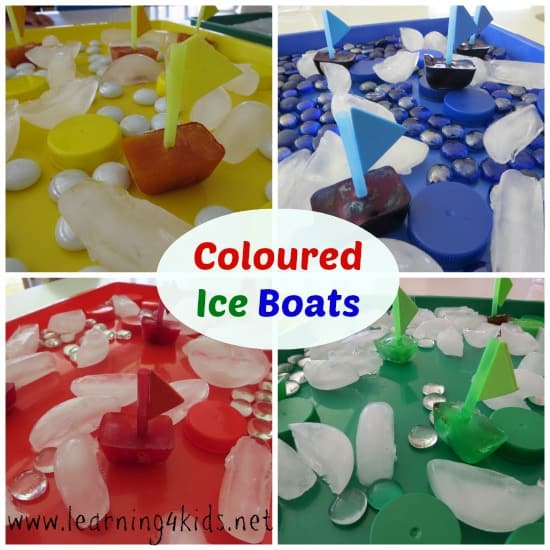 Coloured Ice Boats is a fun sensory activity for children to explore colour.  As the ice melt it creates coloured water to mix and make new colours.  It is also an opportunity to play imaginatively and creatively.
What you will need? 

You will need ice cube trays, food colouring, ice cubes, plastic trays, foam pieces for the sails, blu-tac and straws cut to size.  The straws are used to make part of the sail and the blu-tac is used to hold the straw in place as the water freezes.
We added other matching coloured items to each tray to add to the sensory experience such as bottle tops and gem stones.
Tip:  sit the coloured ice boats on the bench to thaw out a little before removing from the ice cube tray.
Let's Play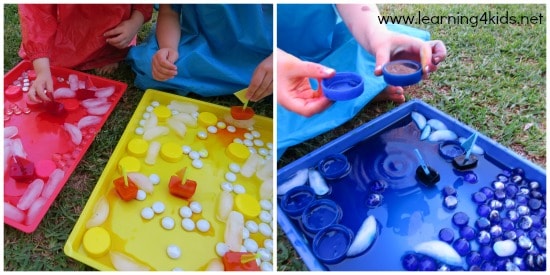 Some Ideas 
Pretend and play imaginatively.  Add some toy characters to the play opportunity.
Place one blue and one yellow ice boat into a separate container and see what happens.
Create an imaginative play scene: Use the gemstones to create a pretend island and the clear ice cubes are sharks or other sea creatures.  The ideas are endless!
Ask questions:  what two colours mixed together will make purple or orange?
Let's Learn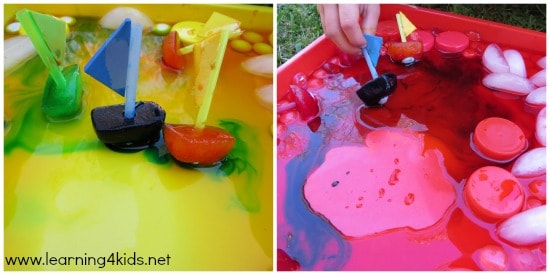 This activity is great for mixing colours together and making new colours.  Once all the coloured ice has melted and mixed together is becomes brown coloured water.
Learning Opportunities
Creativity
Fine Motor Development – Pre-writing skills
Hand-Eye Coordination and Control
Cause and Effect
Concentration
Language development
Colour recognition
Sensory – exploring the world around us through our senses
Find more COLOUR activities <CLICK HERE>
LIKE THIS POST
Come join the many playtimes here on Learning4kids, please enter your email address in the subscription box to receive updates right to your inbox!
6 Responses to "Colour Activity – Coloured Ice Boats"