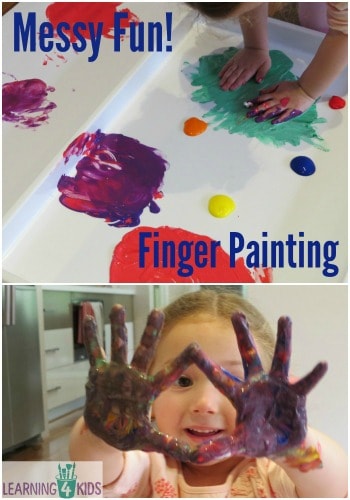 In early childhood education Finger Painting is often the very first painting experience children will encounter.
As simple as it may be putting paint into trays for little fingers to play and paint with, there are numerous reasons why finger painting is beneficial for child development and learning.
What you will Need?

All you need is a bit of paint and little hands and fingers!
Let's PLay
Some Ideas:
Place small blobs of paint onto a large tray (the lid of a plastic container is great for this).
Make a rainbow by placing small blobs of paint, each colour of the rainbow in a row onto paper. Then blend and mix the paints together using your fingers and hands.
Create patterns, drawings, numbers, words and shapes in the paint on a tray and place a piece of white paper over the top to create an imprint of the finger paint drawing.
Finger Painting is so much fun completed on an easel or a glass window.
Let's Learn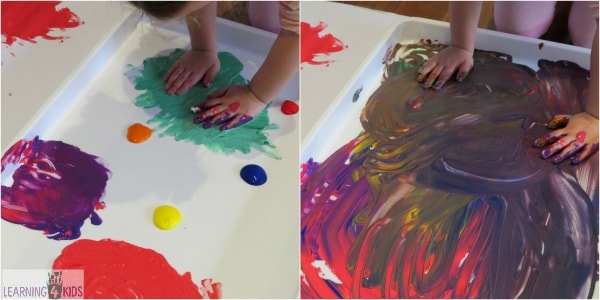 Although we would prefer that our kids completed mess free activities to avoid the paint on the walls, furniture and their clothes, the benefits of finger painting are numerous.
1. Finger painting is easier for little fingers that are not yet ready to manipulate a brush.
2. Sensory experience of exploring paint, textures and prints.
3. Fine Motor Development: Finger Painting strengthens the finger and small hand muscles developing pre-writing skills.
4. Colour recognition and children can discover informally about mixing and exploring colours.
5. All the senses are involved: seeing, hearing, touching, smelling, and (if you use edible paint) tasting!
6. Hand-eye coordination and control.
7. Experimentation and exploration of paint as a new tool for discovery.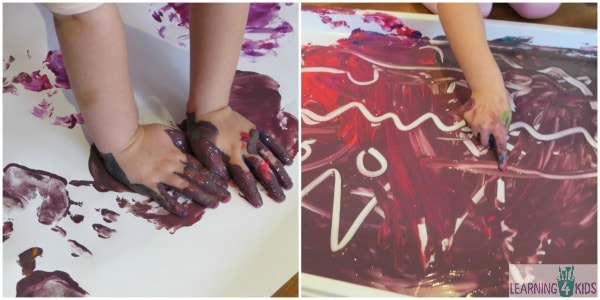 Once all the paint is mixed together it makes such a delightful colour of brown and purple but the learning benefits and fun outweigh the prettiness of this activity.
8. If you place the paper on the floor, large muscle control and balance could be improved.
9. There is a focus on the process, not on the end result or the finished product.
10. Finger Painting promotes self-expression, creativity and imagination.
11. Language development: talking about the creative process of finger painting, what the child is painting and colours.
12. Kids learn that they can manipulate and be in control of their surroundings.
13. It is MESSY, which also means it is FUN!