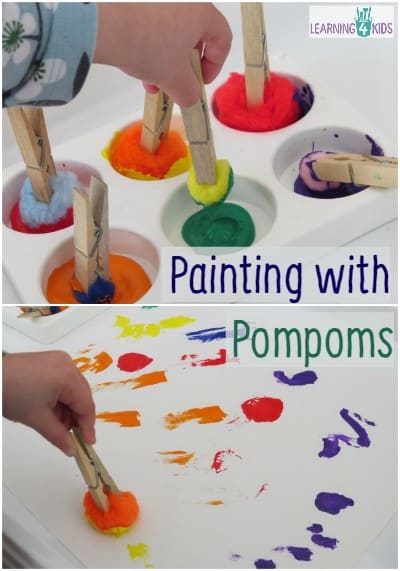 Painting with Pompoms is a fun activity for kids and toddlers to explore colours and experiment with a new paint tool. It is so quick and easy to set up and also allows for kids of all ages to complete as it is open-ended.
This activity is also a great opportunity for learning about the letter P. We printed off a large letter 'P' and printed the paint soaked pompoms onto the letter P shape. P is for paint and pompoms!
What you will need?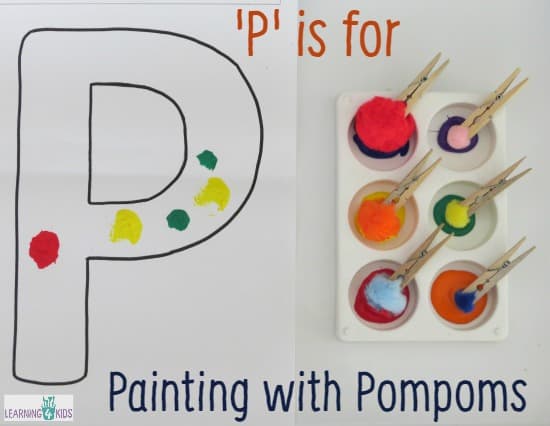 You will need pegs, paint, paint tray, pompoms and Printable Letter P. The pegs are great for encouraging a fine motor grip and act as a handle for holding the paint soaked pompom. I also photocopied the letter P in an A3 size for this activity.
You can download and print the letter P in two different fonts here:
Letter P for Pompom Painting – Cursive
Letter P for Pompom Painting – Not Cursive
Let's Play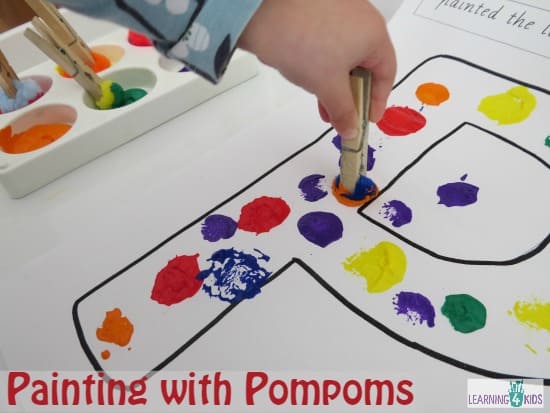 Before painting with the pompoms we ran our fingers inside the shape of the letter P, pretending to be writing it. We also talked about words that start with the letter p sound such as paint and pompoms.
More Playing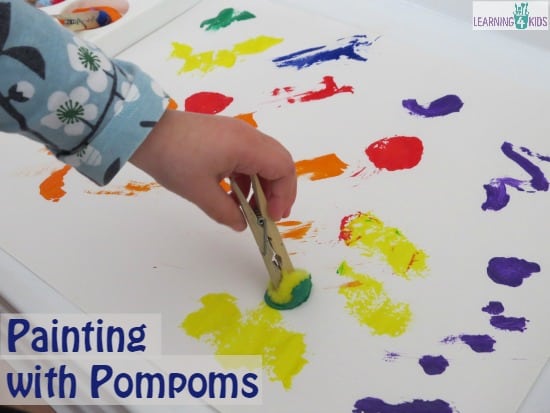 Once the letter P was painted with pompoms, Miss 4 had the opportunity to paint freely and explore the paint and pompoms. She made longer strokes rather than spots as we were before.
Some ideas:
Make patterns with the colours, such as one blue spot and two green spots, one blue spot and then two green spot, etc.
Write your name using the pompom paint tool.
Count the number of spots you make with the pompoms.
Let's Learn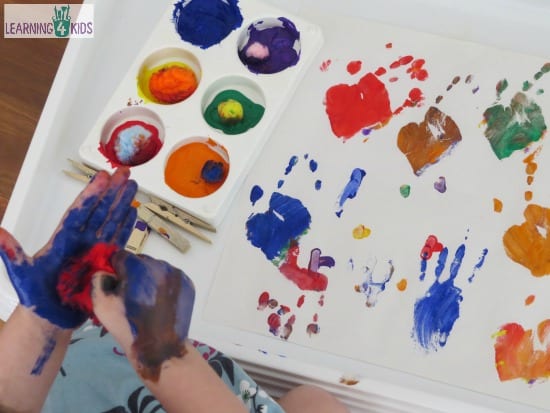 Miss 4 loves to get her hands into the paint, it happens every time we get the paints out. She removed the pegs and pinched the pompoms with her thumb and fingers to pick up the pompoms. She then covered her hands with the paint (back and front) and explored mixing colours and making hand prints on the paper.
Learning Opportunities
Self-expression with paint
Eye and hand coordination
Fine motor development
Experimenting and exploring with a new paint tool
Sense of achievement and pride
Letter Recognition – Letter P
Oral language development – P is for paint and pompom. Hearing the sound and saying it out loud.
Identify and recognise colours
For More Painting Activities and Ideas <Click Here>