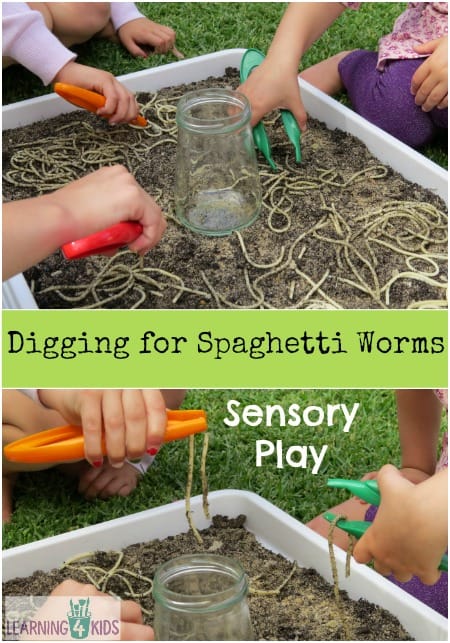 The kids are going to love this!!
Digging for Spaghetti Worms in Dirt is a simple sensory activity that only takes a few moments to set up. It's exciting, it's messy and the kids will have so much fun catching all the slippery and slimy spaghetti worms with tweezers and putting them into a jar.
What you will need: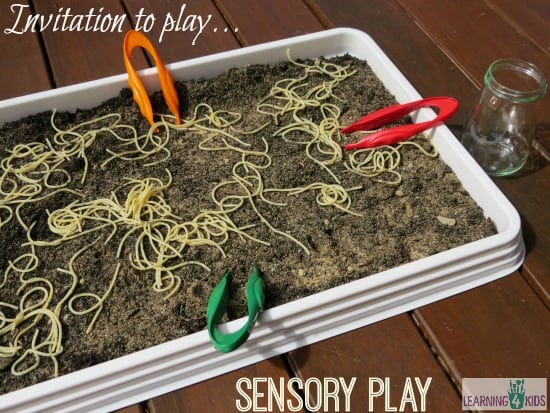 You will need slightly wet sand/soil from the garden, a large container or tray and cooked spaghetti (left overs are great!). We have also used tweezers for the added fun and development of fine motor skills but this is optional.
Slightly hide the spaghetti worms on the top layer of the sand/soil because too much sand/soil can be too heavy and may break the worms as they are being dug out.
Let's Play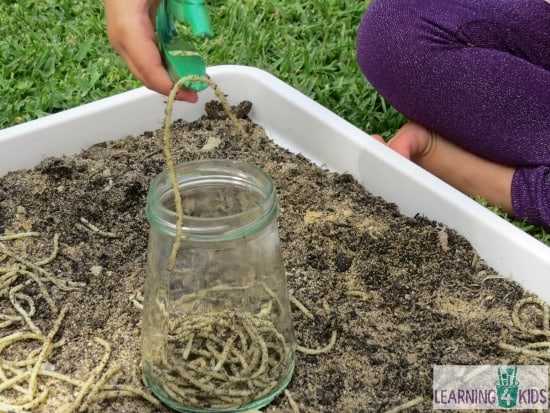 Some Ideas:
Use your hands to squeeze, squish and dig out the spaghetti worms from the soil.
Use the tweezers to catch the worms and place them into a container.
Count out loud as each worm is caught and placed into the jar.
Measure the different lengths of the worms such as "this worm is the longest" or "this worm is shorter than the last one".
Let's Learn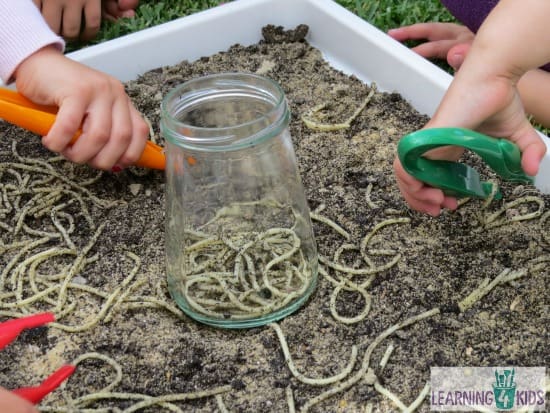 Why is Messy – Sensory Play so Important?
Sensory play is important for young children, as it provides endless opportunities to develop and learn. All types of play are essential for a child's development and early learning. Sensory play helps children to develop and improve their gross and fine motor skills, co-ordination and concentration. It also helps them to learn how to work co-operatively, use their senses to discover their environment, develop their imagination, creative thinking, and ability to problem solve and experiment with solutions.
Back to School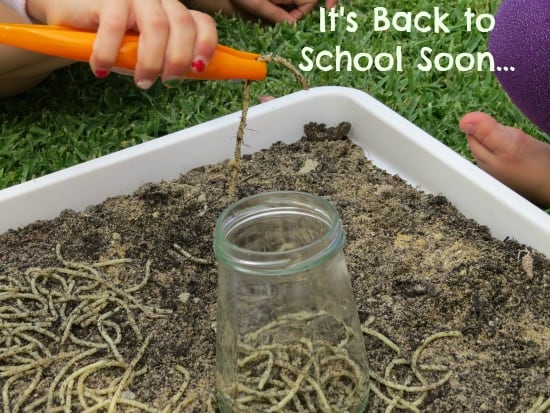 Back to school preparations are in full swing here in our house with only a few more weeks left of the school holidays. Our Sensory Play Digging for Spaghetti Worms is a great activity the kids can do while you are busy preparing for the new school year.