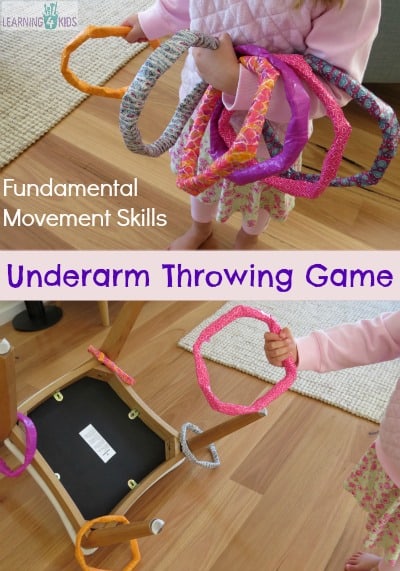 This Early Years Throwing Skills Game is our homemade version much like the game Ring Toss or Quoits but using homemade paper rings as the rope and chair legs are the target stand.
Throwing skills such as underarm throwing is a fundamental movement skill that should be practised and encouraged in the early years. Throwing the Ring Game is so simple to make and set up and is a great way for children to have fun while developing these important gross motor skills.
The chair legs of a dining chair or classroom chair are perfect for throwing these homemade rings onto.
What you will need?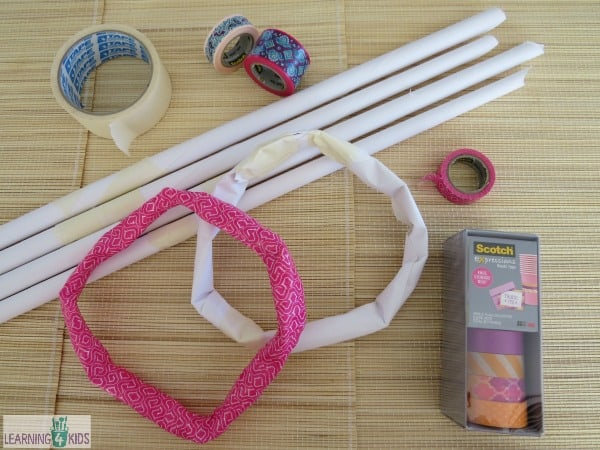 To make 6 rings, you will need 6 sheets A3 paper, masking tape and decorative tape. You will also need a chair turn upside down to throw the rings onto. If you do not have A3 paper, 3 layers of newspaper is a great alternative to use.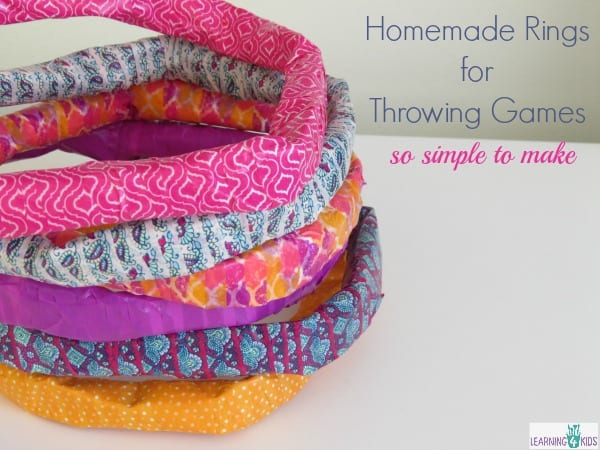 Homemade rings for throwing games. They are hard wearing, strong, bright and colourful. Kids will love playing with these.
To make the homemade rings for throwing games, I rolled an A3 piece of paper from the corner to the opposite corner to form a tube.
Fasten the paper tube with masking tape to stop the roll unravelling.
Shape the tube roughly into a circle shape and join the ends with masking tape to form the ring.
Wrap the ring with decorative tape.
Let's Play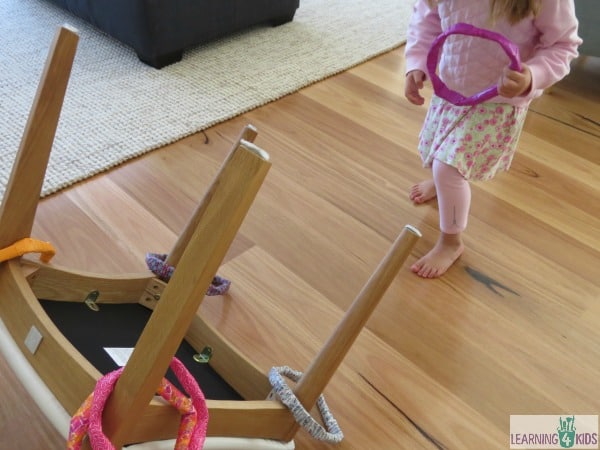 My daughter is left handed so this action should look very similar for right handed children. This skill takes time to develop as there is a lot of movements to coordinate. Miss 4 has the idea of stepping forward but is still developing the opposite foot to the throwing arm.
Some Ideas:
The object of this game is simple, you take a ring and try to loop it over the top of the chair legs.
Eyes on the target, step, swing and follow through letting go of the ring. Opposite foot forward.
Stand closer to the target and as your child improves, take a step back to be further away.
For older children, you could provide a point system for each chair leg. For example 10 point for the two top legs and 5 point for the two bottom legs.
Let's Learn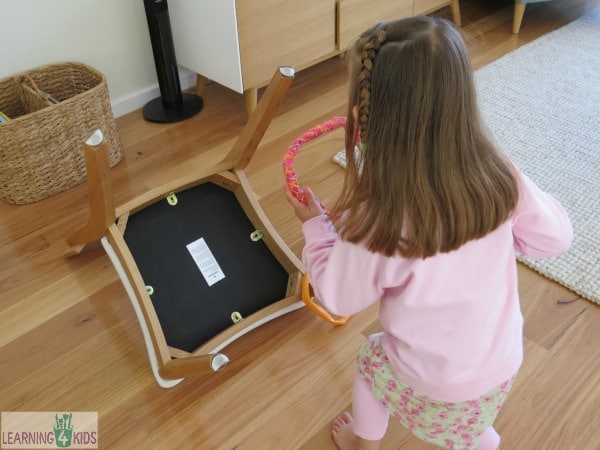 Learning Opportunities
Object Control/Manipulative Skills: step, swing, and follow through. Opposite foot forward.
Hand-eye coordination and balance.
Social skills: collaboration, taking turns, sportsmanship
Self-esteem: Pride and sense of achievement
Building strong bodies, muscles, bones and hearts.
Click here for more ACTIVE activities & play ideas