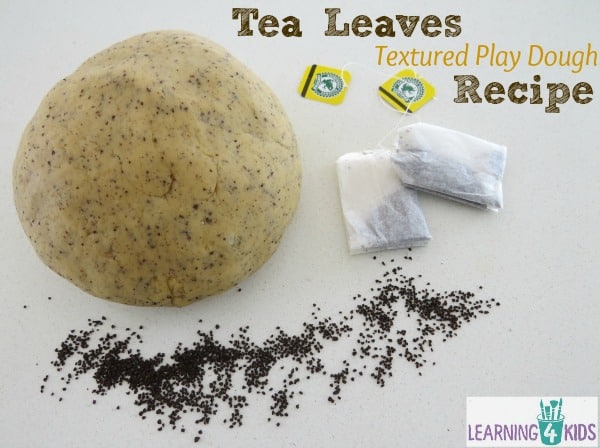 Tea Leaves Scented Play Dough Recipe is naturally coloured, textured and scented from the addition of tea leaves to a basic play dough recipe.
This play dough is a simple and fun that heightens the sensory play dough experience. It provides children with the opportunity to smell and feel the different scent and textures while playing creatively and developing their fine motors skills.
I plan to incorporate the Tea Leaves Scented Play Dough into my science program about the five senses and linking this to autumn (fall). The colours fit nicely into the earthy colours of autumn (fall). We will be adding dried autumn leaves, twigs, seeds and other items that the children collected from the playground to the play dough experience.
What you will need?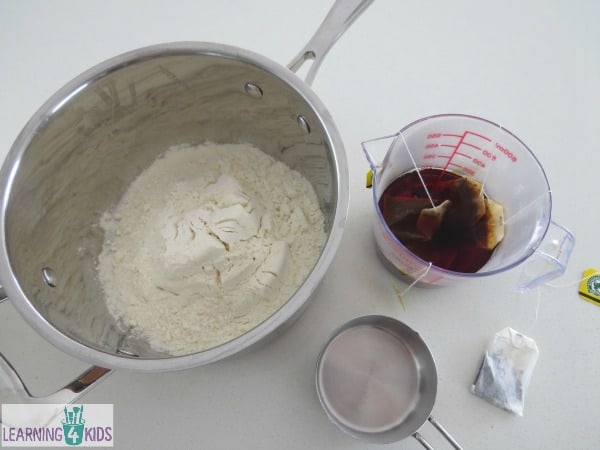 2 Cups plain flour
2 Tbsp. oil
1 cup Boiling Water
1 Cup Cold Water
1 Cup salt
4 tsp cream of tartar
4 Tea Bags
Please Note:
This recipe has been doubled and will be a good amount for larger groups (4 or more children).
No colouring required, the tea leaves provide a natural colour.
Method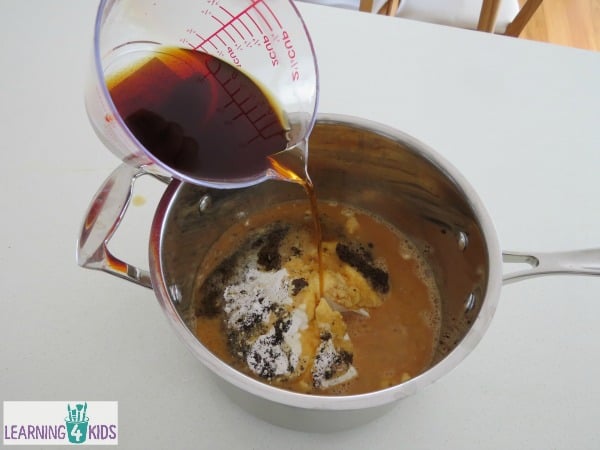 Place the 4 tea bags into a heat proof container. Add 1 cup of boiling water and let it stand for 5 minutes to allow the colour to bleed.
Add 1 cup cold water to boiling water and allow to stand.
In a saucepan, pour all dry ingredients, flour, salt, and cream of tartar.
Add tea water and oil to dry ingredients.
Empty the wet tea leaves from the 4 tea bags into the saucepan. This will provide texture to the play dough.
I use a whisk before heating as I find this helps remove the lumps and blends the ingredients well.
Cook over medium heat constantly stirring until it becomes a thick blob.
Then turn out onto a clean surface and knead into a smooth ball. Be careful the play dough will be very hot!
Use a little bit of flour if the play dough is sticky.
Store in a plastic zip lock bag or air tight container.
Take a look: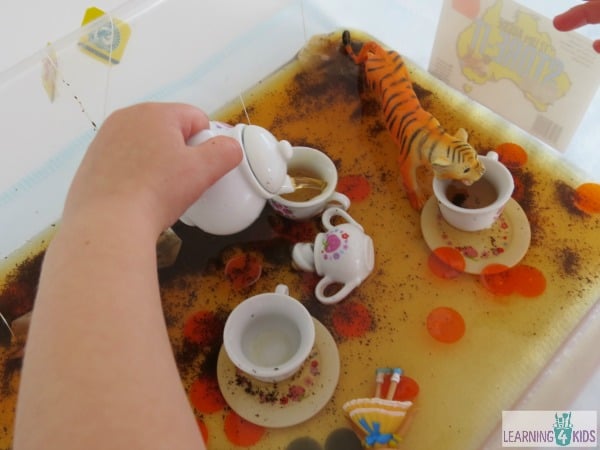 Tiger Tea Party Sensory Story Retell – more tea themed activities and ideas.
Click here for more PLAY DOUGH RECIPES
Available in our online shop:
Please click on the product names to view full product details.
Bulk Activity Pack of Counting Raindrops Play Dough Mats
Number Play Dough Mats with 10 Frames