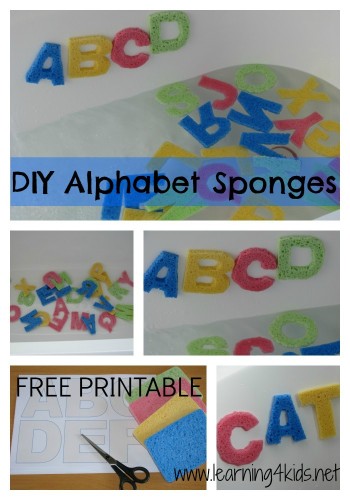 Playing with DIY Alphabet Sponge Letters in the bath is a great tactile and hands-on activity for kids to play with while taking a bath. When wet, the sponges stick or suction slightly to the sides of the bath and tiles, making it a great canvas for creating endless ideas.
So much fun for the bath…….and learning your alphabet too!
Ever had trouble getting your kids into the bath, then here is a great motivator!!
What you will need?
You will need sharp scissors, makes the job so much easier, kitchen sponges and alphabet letters template. The letters template is made to fit the width of the sponge from the top to the bottom to minimise wastage. The sponge letters are nice and chunky and when cut out they are about 9cm tall, a great size for little hands!
See end of the post for the free alphabet letters template. There is also a free printable for shapes and numbers as another option.
Let's Play
This activity could also be done with shapes or numbers. Whatever is relevant to your child and what their learning focus is? My 3 year old is very focused and interested in letters at the moment and making pretend words with them.
Don't throw out the cuttings; these can be used for another activity! I'm thinking paint!
You can view our activity using the left over cuttings click here: Sponge Painting
Let's Play
We made a few extra letters so that the kids could make their names which had repeated letters in them.
Let's Learn
Loads of fun for creating your name and small words. You could also order the letters from A to Z around the whole bath while singing The Alphabet song. Create CVC words such as bus, bug, mug, rug, hat, rat, big, sun, fun and box. Also practice spelling sight words such as the, and and was. The ideas are endless!!
This is something you could do on a hot summers day when it's too hot to play outside and the kids need something to do while cooling off at the same time.
Alphabet Sponge Letters are great for:
Reinforce learning alphabet letters or becoming familiar with them.
Constructing and sequencing letters to create names and small words.
Hand and eye coordination.
Printable Resource –
You can make letters, numbers and shapes with these free printables: