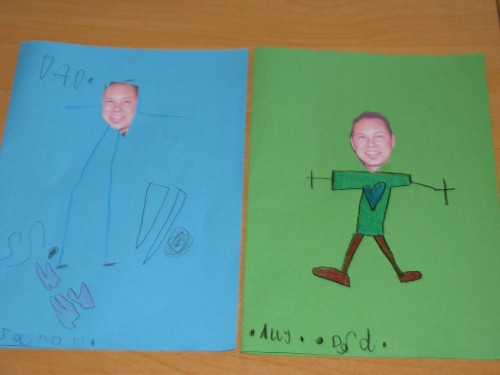 Making something for Dad is very special to kids as this is one way they know how to show and share their feelings. Giving a homemade Father's Day Card is a personal gift that they take a great sense of pride and enjoyment in creating.
All you need is a photo of their Dad (or special male figure) and using the photo to draw and create their Dad's body. The kids had so much fun making this father's day card because they couldn't stop giggling at the funny body they had drawn onto their Dad's photo. It was great to see the differences and interpretations in their drawings.
This Father's Day Card is sure to make Dad laugh!
What you will need?
You will need a photo of Dad! Coloured paper folded in half, crayons, scissors and a glue stick.
Let's Create
Cutting and gluing Dad's head onto the front of the card.
Let's Play 
The fun part, creating our little Daddy's! This should be unstructured, where the kids are free to use their imaginations and create their Dad's body. It also makes it more personal and special when it comes from them. It is interesting to see the difference in ability of a 3 year old and 5 year old. The girls couldn't stop giggling!

Our youngest joining in and making her Dad a special father's day scribble!
Now to keep it a secret until father's day!!! 🙂
Available in our Online Shop 
We stock a large range of art and craft supplies.
Take a look <HERE>