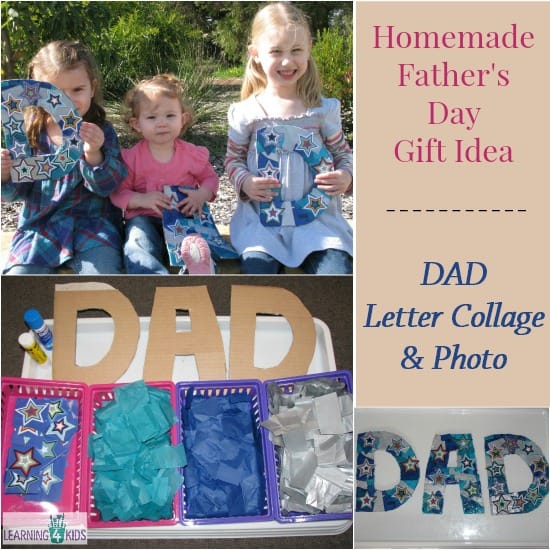 We are always looking for new and fun Homemade Father's Day Gift Ideas. For previous Father's Days we have made a Father's day tie, the crown and painted pictures of Daddy. Although these are absolutely wonderful gift ideas, I wanted to do something a bit different this year, especially now that my kids are getting older. This is a great gift idea that will be kept for a long time.
What you will need?
You will need cardboard for cutting out the letters, a glue stick, tissue paper and your choice of wrapping paper. We had left over wrapping paper with stars which fitted perfectly for our project. These cardboard letters are about 24cm tall but you can make them as big or small as you like!
Let's Make 
Make a collage with coloured tissue paper by gluing and applying layers upon layers until the whole letter is covered and there is no cardboard visible. Allow the tissue paper to hang over the edge of the letter to get really good coverage.
Let's Create 
After the glue has dried, cut off any overhang tissue paper.
Decorate the tissue paper covered letters with cut outs from the wrapping paper. Allow the glue to dry.
A Special Gift 
Take some photos of the kids holding their decorated letters and place them in a frame. We had a lot of FUN chasing our 13 month old around for a photo.
Wishing all those special men in our children's lives a very special day!
Available in our Online Shop 
We stock a large range of art and craft supplies.
Take a look <HERE>