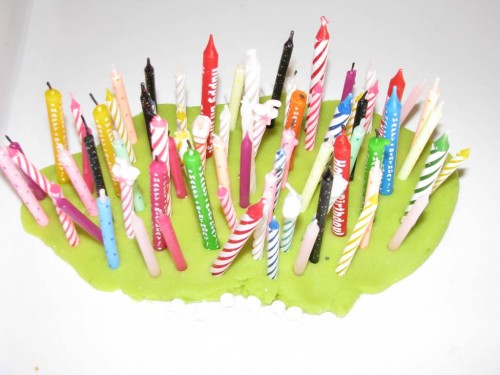 Kids love birthdays, blowing out candles and cake!
Why not incorporate all these wonderful things with oral language development, strengthening fine motor skills, developing numeracy concepts and most importantly FUN!
This activity involves making a play dough cake, adding candles and singing one of my favourite children's song; 10 Little Candles.
What you will need?
You will need a nice blob of play dough, birthday candles and other play dough equipment such as plastic forks, pop sticks and cookie cutters. We always find something useful in our plastics and cutlery drawers to use with our play dough.
Let's Play 
Let's make a play dough cake! There is no wrong way or right way of doing this as children experience and play with different ideas. Children learn through watching and model the things we do. If your child is stuck for ideas, try looking at pictures of cakes in recipe or story books, as this can help develop ideas.
Let's Learn 
When the play dough cake is looking made, introduce the candles. We just pretended the candles were lit but alternatively you could put a small ball of play dough on the top of the candle to mimic that of a flame.
Let's Sing 
Sing 10 Little Candles and act out (if necessary) to your child blowing out the candles on cue with the words in the song. Let them pretend to blow out and remove the candles themselves. You will find they will love role playing blowing out the candles and want to do it again and again! This children's song is great for developing an understanding of take away and how many is left.
Tips for the activity
The play dough cakes don't need to be anything elaborate. The idea is for kids to feel proud of what they have made because they did it!
This activity is great for oral language and fine motor development and also numeracy skills.
Bring out the birthday candles after your child has finished making their play dough cake. I find particularly with young kids this is a big distraction and they are more interested in playing with the candles than making a play dough cake.
Useful links to download and print:
Recipe for Play Dough with Pictures