Making a Pipe Cleaner Rainbow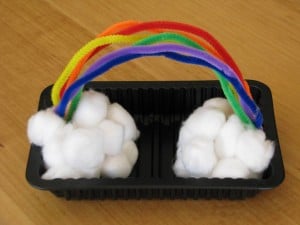 A gorgeous little craft activity to create a rainbow!
You will need pipe cleaners, cotton wool balls, a clean meat tray and some play dough.
Sing the song: All the colours of the Rainbow to help children learn the order of the colours.
LIKE THIS POST
Come join the many playtimes here on Learning4kids, please enter your email address in the subscription box to receive updates right to your inbox!
One Response to "Making a Pipe Cleaner Rainbow"