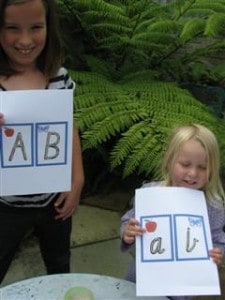 Today, I am so excited to share one of our Learning 4 kids reader's activity! Thank you Leah for taking the time to share this with us! It's fabulous and can't wait to try it out with my own kids!
Recently I published a post about Alphabet Play Dough and attached a link to download and print Alphabet Play Dough Mats to use with this activity.
Leah, and her gorgeous daughters got together and used these alphabet letters to further their fun, learning and creativity by making Sand Paper Alphabet.
Such a great sensory activity for kids. It reminds me of the Montessori approach to learning where fine sand paper is used and cut into letter shapes. It is teaching the letter name and sounds in a multi-sensory way. Hearing the letter sound, seeing its representation in the form of a letter, and feeling the way it is written as the child feels the letter with their fingers.
I love it so much, I had to share it with you!
Let's Play 
Applying the glue over the alphabet letters, sprinkling over with sand and then waiting for the it to dry. Leah got the sand from the beach. I love this photo of Saffron, she looks like she is having a great time!
Let's Learn 
This is my favourite part of the whole activity! Using the sense of touch to feel over the sandy shape of the letters. What a wonderful way to explore the alphabet!
There is so much learning from this activity:
* Sensory- learning through the sense of touch
* Learning the name, sound and shape of letters in the alphabet
* Gaining a muscular memory of the shape of the letters as a prelude to writing
Thank you Leah, Nelly and Saffron! For more alphabet activities
<CLICK HERE>