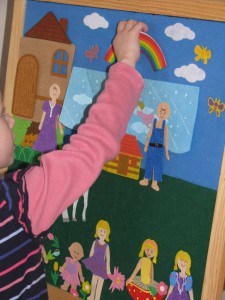 I am a big fan of felt!
I love that it is a sensory toy, brightly coloured, hands on playing, creative and great for storytelling. It brings so much imagination and learning to play times.
My kids have grown up with felt and still love to play with it. We have used them for many different games and activities. We have made stories, role played our favourite nursery rhymes and fairy-tales but I get the most enjoyment out of listening to them make up their own imaginative stories.
When I am shopping for birthdays and Christmas, I am always on the look out for felt toys to add to our collection!
Our little collection….
…….all squished into this small container! It's great to have a place for them to go at pack up time!
Homemade Felt Board 
I converted our chalk board easel into a felt board by cutting some felt into the correct shape and size to fit. Next I glued it onto the board with craft PVA glue. I was very careful not to use too much glue as I did not want it to soak the felt.
Let's Play 
Felt play provides children with the opportunity to act out imaginative stories and role play the things that are happening in their life. When our 3rdbaby was born, the stories were about bathing and dressing the baby using the felt character and small felt pieces in our collection. If the kids didn't have a felt piece that they needed, they would turn another felt piece into something in its place. Miss 5 turned a upside down felt mushroom into a dress…..the imagination…..love it! Felt is an amazing tool for stretching the imagination and storytelling.
Let's Learn 
Some of the felt collections I have purchased included fairy tales like Goldilocks and the Three Bears and The Three Little Pigs. We have played out these stories using the felt characters many times.
Playing with felt encourages many great learning experiences:
A sensory toy that involves touching, feeling and manipulating
Great for the imagination, make believe and role playing
Hands on learning
Fine motor development and hand – eye coordination
Spatial perception and exploration
Language skills: story telling
Imagination: role playing, pretend play