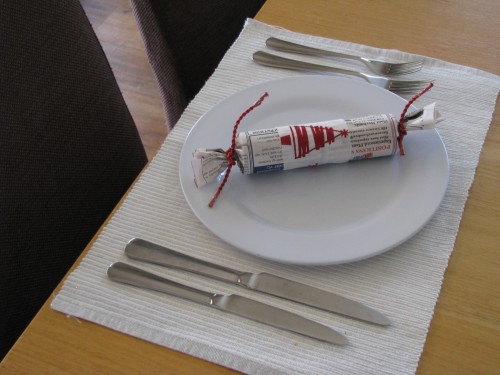 Have you ever thought about re-using newspaper to make Christmas crackers?
Christmas crackers are a wonderful way to decorate the table at Christmas time. Here is a simple, yet effective and stylish way to bring colour and theme to your table this Christmas. I love the way that the newspaper is very original and different!
What you will need?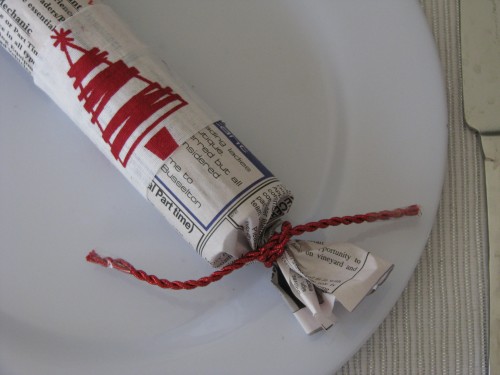 You will need newspaper, Christmas theme fabric, coloured twine or cord and PVA craft glue. You will also need a cardboard paper roll, we have used a paper towel roll because we put some sweet treats inside which is more hygienic than using a toilet roll.
How to make?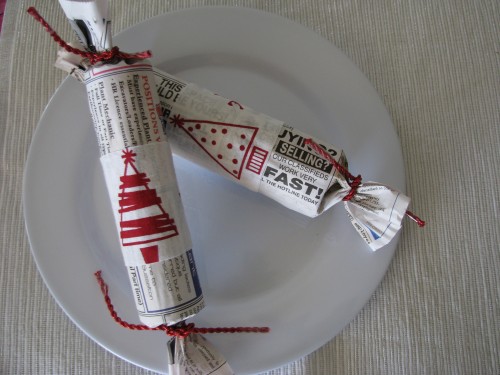 Cut the cardboard roll to size and newspaper to fit.
Lightly spread a thin layer of glue to the outside of the cardboard roll and wrap the newspaper around. Make sure there is an even overhang on either side.
Twist the ends, wrap the twine around and tie a knot to hold it in place. If the twine or thread begins to fray, attach a small amount of sticky tape to the ends.
Apply a small amount of glue to the area of the newspaper for the fabric and wrap around, smoothing out any creases.
Allow the glue to dry.
Other Ideas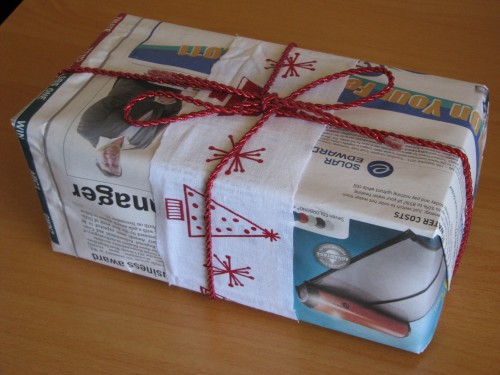 You could also paint the newspaper using sponge cut outs in Christmas shapes.
You can place some yummy surprises, balloons, colouring in pictures with a crayon or jokes inside the Christmas cracker.
Instead of using Christmas patterned fabric you could also use coloured felt in its place.
The Christmas crackers can be used as gift tags or make as a great small gift.
Continue the theme and re-use newspaper, fabric and twine to wrap Christmas gifts.
More Christmas Activities <CLICK HERE>