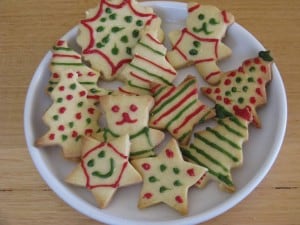 Christmas cookies are always a treat at Christmas time and they are super easy for kids to make.
This is something we do every year and has become a bit of a tradition. We always leave a cookie out for Santa, usually the biggest one with his name written on it.
What you will need?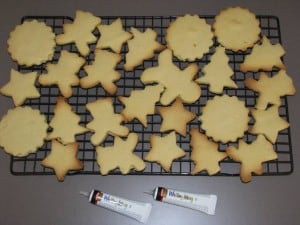 You will need the Easy Cookie Dough Recipe, Christmas cookie cutters and icing sugar tubes.
Let's Play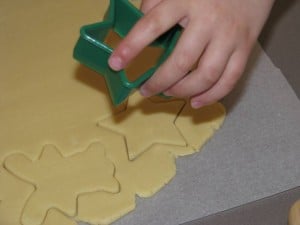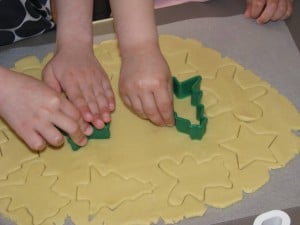 Pressing the cookie cutters into the rolled out cookie dough. The cooking paper underneath stopped the dough from sticking to the bench and also made it easier to transfer the cookies onto the baking tray.
Let's Create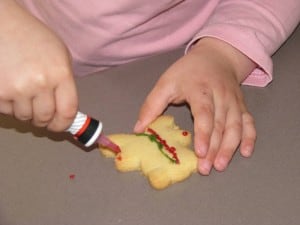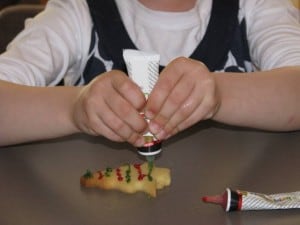 There is so much fun to be had decorating and personalising your own cookie. We used premade icing tubes but you alternatively use a press lock bag and cut a small hole in the corner.
The kids working hard those fine motor muscles with all that squeezing. They are also practising and developing their attention and hand & eye coordination.
Let's Learn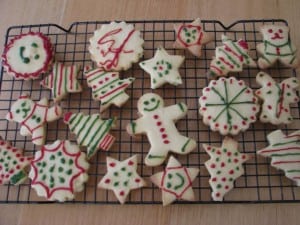 Can't wait to eat them!
Benefits of Cooking with Kids:
Sensory- hands on feeling and manipulating the dough through the senses.

Fine motor skills- strengthening little muscles through manipulation and moulding the cookie dough.

Hand and eye coordination- watching and doing and coordinating these actions.

Language development – cooking is a social activity requiring speaking and listening, also developing vocabulary.

Self-esteem- a sense of pride and achievement
More Christmas Activities <CLICK HERE>
Visit our Learning 4 Kids Online Shop 
The Ultimate Christmas Printable Activity Pack – 100 pages and over 20 activity ideas