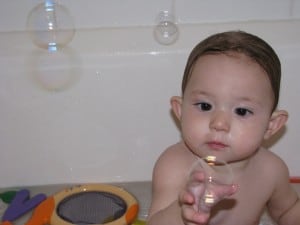 Lost in a world of bubbles!
The joy that bubbles bring to children is amazing and they will play with them for as long as the bath water stays warm.
Playing with bubbles with my 13 month old (at the time) reminded me about how the simplest things can bring so much fun.
Children are so engaged in what is happening and there is so much learning happening when playing with bubbles.
Let's Play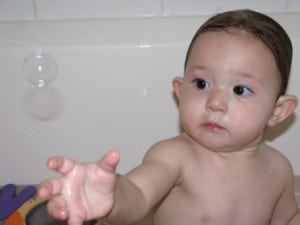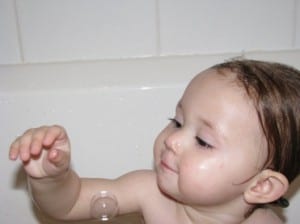 A face of concentration involved in trying to catch and pop the bubbles. The fascination of what a bubble is and why does it disappear when it comes into contact with water or an object?
The benefits of bubble play are;
• Eye and hand coordination – watching the fingers connecting with the bubbles.
• Balance, control and movement of the body to catch bubbles.
• Development of attention span.
• Language development – repeating words such as "pop" and "catch".
• Loads of fun!
Playing with bubbles in the bath tub helps with the clean-up, no soapy floors to mop!